In the fall of 2018, MSU CVM former Dean, Kent Hoblet announced the initiation of nineteen distinguished members to the first-ever CVM Dean's Council. The council was established to assist the dean in key areas of promotion, growth, and sustainability of the college by providing strategic advice regarding vision, direction, and long-term planning of the college, as well as assisting in acquiring resources from private, corporate, state and federal levels and assisting with the student recruitment efforts of the college.
In addition, the council serves in an advisory capacity for the marketing and public relations efforts of the college and as an advocate of the college to university administration, the State of Mississippi, and as appropriate, on a national level.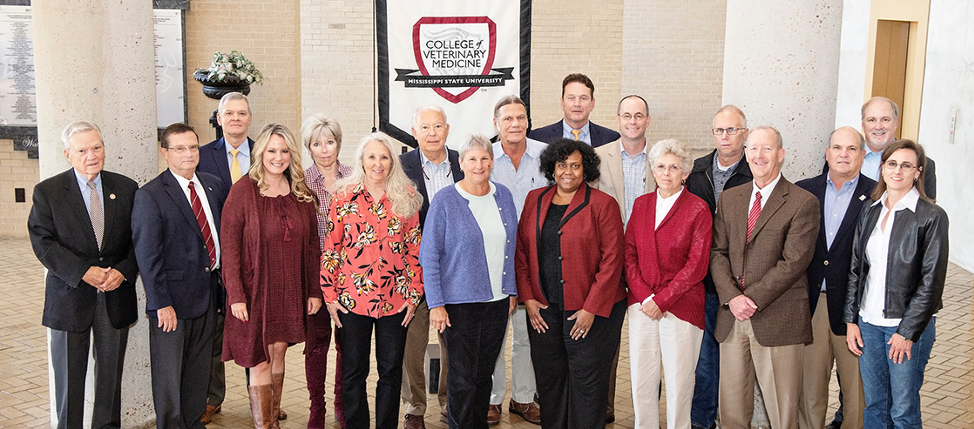 Left to Right-Dr. Mac Huddleston, Dr. Kent Hoblet, CVM Dean, Dr. Bob Filgo, Dr. Rebekah List, Lynn Spruill, Karen McCord, Dr. Mikell Davis, Council Chairman, Dr. Susie Taylor, Dr. Mike Johnson, Dr. Wanda West, Dr. David Dale, Dr. Betsy Lipscomb, John Lewis, Dr. Kevin Smith, Mike McCormick, Dr. Ron McLaughlin, CVM Associate Dean, Dr. Paula Schuerer. Not pictured: Rona Johnson-Belsar, Dr. Todd Henderson, Terri Nusz, Wayne Wilkerson, Dr. Mark Akin
Selected by the dean in consultation with his senior leadership team, council members serve five-year terms (with the initial group serving staggered terms to avoid complete turnover), and the council chairman serving a two-year term. The council meets in the fall and spring each year, and members can be reappointed indefinitely by mutual agreement between them and the dean.
"Having guidance, support and feedback from a group of individuals with a strong connection to the college, genuine interest in its mission and sincere concern for its continued success is most certainly beneficial to all of us in leadership roles here at the CVM," Dr. Hoblet said. "We're thankful for their willingness to serve and the input they provide."
For additional information about the Dean's Council, call (662) 325-1131.