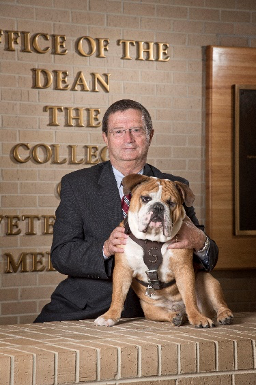 Since the College of Veterinary Medicine's establishment in 1974, we have made it our responsibility to provide a higher standard of living not just for animals and those involved in animal agriculture, but for all Mississippians. Our primary goal as being a part of a modern land-grant institution is making advancements in teaching, research, globalization, and community service. Our faculty has developed a strategic plan that encompasses these goals. We stand committed to working through these different areas to improve the health of animals and people and to contributing to the economic development in Mississippi and the region by providing quality education, advancing research, and serving the community through excellent diagnostics, clinical care, and shared learning.
Through support of our faculty, the University, and our donors, we continue to provide the best learning experiences for our students, whether in the veterinary technology program, professional DVM program, or graduate programs. To stay ahead of the curve in new advances in veterinary medicine, we continue to hire more research-intensive faculty who address, in the best land-grant tradition, those problems that directly affect our region.
We are one of the few North American Colleges of Veterinary Medicine that provide two full years of mentored clinical education. Our graduates exceed the average in national board examination pass rates and in starting salaries. For the past eight years, for graduates pursuing specialty training, our success in matching rates for internships and residencies was in the top 20% of all North American colleges of veterinary medicine. Our shelter medicine program is nationally recognized and provides unparalleled surgery experience for our students. In addition, we are one of only two US colleges of veterinary medicine where all students receive core clinical experiences with marine mammals and endangered sea turtles.
In 2018, the United States Agency for International Development selected MSU CVM to lead its five-year, $50 million Feed the Future Fish Innovation Lab. We are also emerging as a national leader in rural veterinary medicine. We have expertise in applied research in beef cattle health and are helping improve health, and thus add value, of the cattle on the 17,000 beef cattle farms in the state. For more details about our many accomplishments and current projects of interest, see our Points of Pride page.
As technology and medicine advance, so does MSU CVM. We will continue to invest in Mississippi and the region, improving education, health and economic viability.


Dr. Kent H. Hoblet
Dean & Professor
CVM Office of the Dean
P.O. Box 6100
Mississippi State, MS 39762
(662) 325-1131
(662) 325-1498 fax
hoblet@cvm.msstate.edu