Lyne Welcomed to CVM as Recipient of Alumni Fellows Award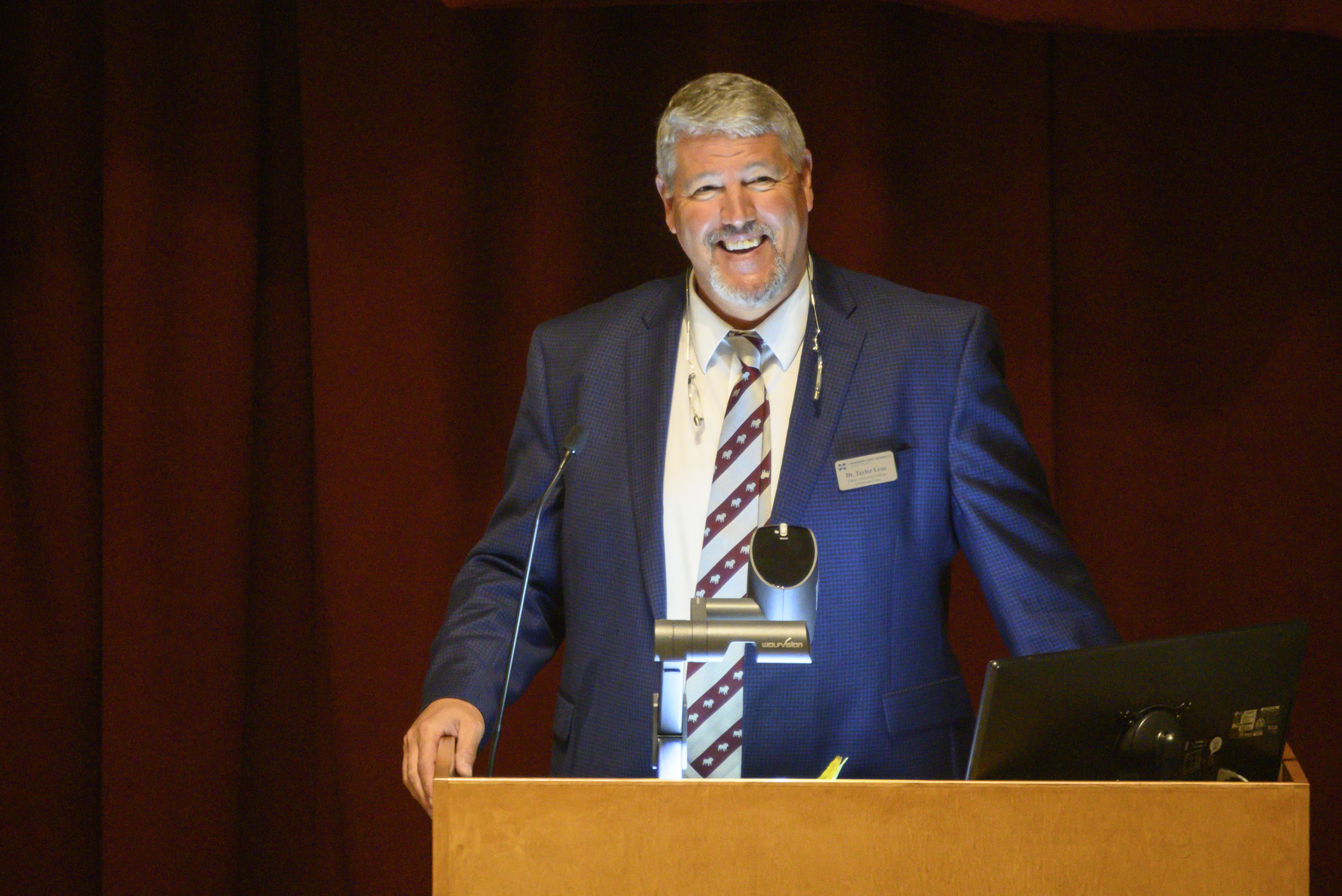 Dr. Taylor Lyne pushed the letter from the Mississippi State University Alumni Association aside as he went through the mail. He assumed it was another pamphlet or something thanking him for his support of the university and the MSU College of Veterinary Medicine, but something told him to go back and open it.
Inside was congratulations on being named the 2019 MSU CVM Alumni Fellow. He read over it a couple of times before calling Jimmy Kight, the College's director of development, to ask if it was legit. "I really couldn't believe it," Dr. Lyne said. "It's truly humbling to receive this honor."
Dr. Lyne's father was a veterinarian, a graduate of the University of Georgia. His parents opened a small clinic near Richmond, Virginia, when he was young. That's where he grew up and where he decided he wanted to be a veterinarian and take over the practice one day.
"I wasn't a great student. I was diagnosed with dyslexia and sometimes really struggled with school. I remember one day my teachers called my parents and said, 'Taylor should really lean towards going into a trade. We don't think college is for him.' That didn't sit well with me, so with my parents' blessing, I went to military school."
After graduating from Fork Union Military Academy in 1984, Dr. Lyne went on to Emory and Henry College in Abington, Virginia, for his undergraduate studies. During his time at Emory and Henry, Dr. Lyne's father became ill. Ultimately, he decided to move home to help his parents and continue his studies nearer to Richmond.
Studying closer to home allowed Dr. Lyne to buckle down and make better grades, but his cumulative GPA was still not high enough to gain admission to veterinary school. A professor suggested Ross University on Saint Kitts Island. After a few conversations, Dr. Lyne agreed to give it a try.
"When I started, we had a class of eight. By the second semester, we had a class of six," he said. "In the beginning of my third semester, our Dean gathered everyone in the courtyard to let us know that a hurricane was headed straight for Saint Kitts and encouraged all students to leave, but I wouldn't. Hurricane Hugo devastated the island a few days later."
Hurricane Hugo left the island and Ross University without water for 30 days and without power for nearly two months. Still, Dr. Lyne stayed.
"In my third semester, the dean called me into his office and said that the university could not continue to educate me alone. He wanted me to fall back into the next incoming class, but with my mom at home running the practice alone, I didn't see that as an option," Dr. Lyne said. "After some discussion, we decided that I should transfer. Mississippi State's program with two full years in clinical rotations appealed to me, so I applied, was admitted, and off I went."
Admittedly, Dr. Lyne was nervous about joining the class of 1994 in the third quarter of their first year of study. The 45-person class had already been together for two quarters and had created a bond. Luckily, class president, Edward Koronowski, took Dr. Lyne under his wing from day one—integrating him into a study group and suggesting he find an activity to help de-stress from the ins and outs of vet school. Outside of studying, Dr. Lyne played rugby.
In 1994, Dr. Lyne earned his DVM degree from MSU CVM and returned to Chester, Virginia, with his wife, KC, to take over the family practice. In 1998, the Lyne family decided to donate the original clinic, Chesterfield Veterinary Clinic, to the Society for the Prevention of Cruelty to Animals (SPCA).
Today, the Lyne family operates two clinics, Chester Animal Clinic and Courthouse Road Animal Hospital, as well as the West Chester Pet Resort—a daycare, boarding resort, and animal park facility. Dr. Lyne credits much of his success to mentors from MSU CVM, the support of KC, and the resilience that got him through school.
Congratulations to 2019 MSU CVM Alumni Fellow Dr. Taylor Lyne!