Shelter Medicine Education is a Priority at MSU CVM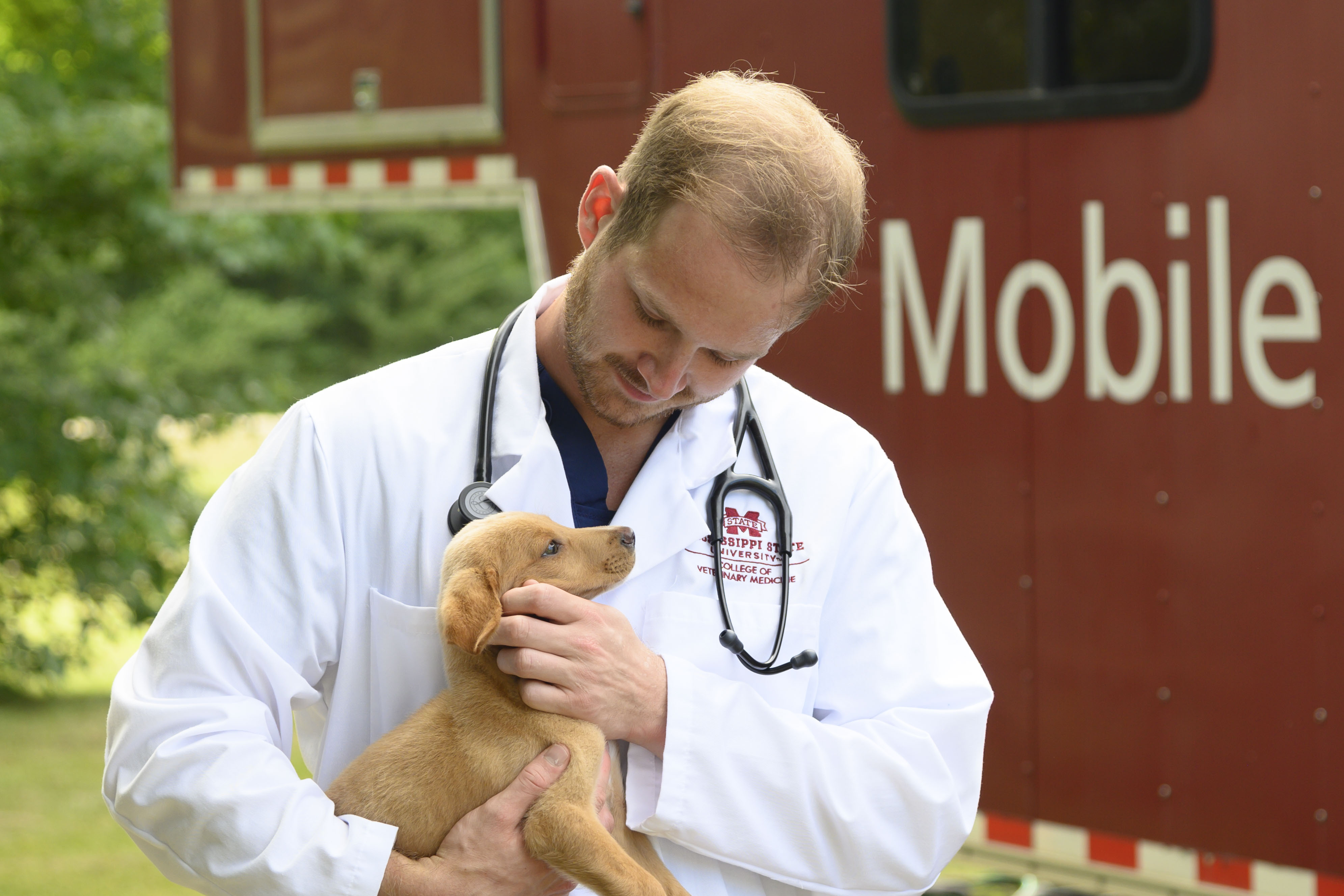 The Mississippi State University College of Veterinary Medicine realizes the significance of providing veterinary students a solid understanding and knowledge of shelter medicine. Our program emphasizes key components such as spay/neuter and humane education. The College has had a cooperative program with Mississippi animal shelters since the 1990s, but the program took off in 2007 when we acquired our first mobile veterinary unit. We now have not only a mobile unit, but also a surgery suite on campus dedicated to spay/neuter.
The impact of the MSU CVM Shelter Medicine Program is significant for the animals, shelters, students and, ultimately, communities across Mississippi and other states. The program literally moves healthy dogs and cats from euthanasia lists to loving homes. The great benefit for the shelters is the increase in adoption of sterilized dogs and cats, which in turn results in decreasing shelter intake, decreased shelter populations and decreased euthanasia rates. Veterinary students graduate with significantly greater surgical experience and skills than graduates of other veterinary schools. However, there is an impact greater than all these combined in that the College is graduating a new generation of veterinarians who fully appreciate the problems animal shelters face, understand the overpopulation of homeless dogs and cats, and are equipped to go out into local communities and help solve the problem!
The MSU Shelter Medicine Program adheres to the Association of Shelter Veterinarians Medical Care Guidelines for Spay-Neuter Programs.
We are thankful for the support of generous organizations and individuals whose grants and gifts enable us to offer this invaluable program to prepare our students for their work providing these vital services following graduation, as well as to make these services accessible to the shelter animals in our region currently in need.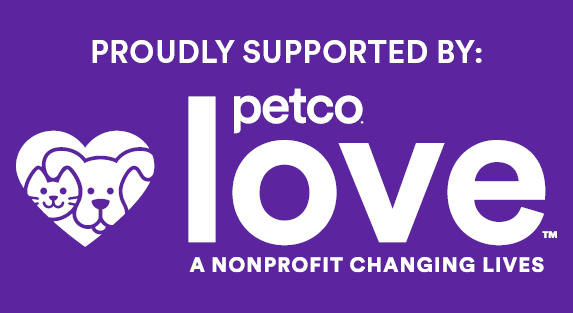 The MSU CVM Shelter Medicine Program is proudly supported by Petco Love, which recently provided a $25,000 grant as part of #SpayTogether, a collaborative, historical initiative of several national funders and organizations who have come together with a goal to help organizations catch up on spay/neuter services. 
---
Student Experience
All third-year students spend one week in shelter activities rotating between the mobile unit, stationary clinic and local animal shelters. They work with shelter animals in all three settings, gaining both medical and surgical experience and enabling us to provide spay/neuter services to 28 animal shelters and rescue groups throughout the state.
In addition, our DVM program also offers an elective shelter medicine rotation, allowing fourth-year students to participate in two-week rotations where they typically average more than 60 spay/neuter procedures.
The surgical experience this faculty-supervised-and-guided training provides is unparalleled among other colleges of veterinary medicine. It instills a spirit of life-long learning and community service and is definitely a point of pride for our College. The elective is generally selected by nearly 100% of the class, and the program accepts externs from other colleges of veterinary medicine.
As a result of the program, since 2007, under the direction of faculty mentors, our students have performed more than 86,000 spay/neuter surgeries, greatly increasing the chance of adoptions at shelters, as well as preventing scores of additional litters of unwanted animals.
Shelter medicine medical visits equip MSU CVM students with practical, hands-on experience and provide a wealth of varied learning opportunities.
Students conduct basic diagnostics, including:
Physical exams
FeLV/FIV screenings
Skin scrapings
Identify and treat common parasites and diseases.
Fecal exams
Cytology                                  
They also observe, review and practice practical aspects of biosecurity and disease prevention, as well as build communication skills and develop problem-solving skills while interacting with shelter employees regarding the health and well-being of the animals.
"Through the program, I learned everything I needed to know to about spay/neuter surgeries. I am now working to help eliminate homeless animals' suffering, euthanasia and overpopulation, and I wouldn't be able to do this without the experience I gained during the elective." 
— Dr. Stacy Lambrinos, Class of 2008
 "The Shelter Medicine program gives all of the students involved incredible surgical experience. Students from many other vet schools graduate with about 2-3 surgeries under their belt; during my two weeks in the elective, I performed more than 100 surgeries."
— Chris Magee, Class of 2013  
Shelter Consultations
Our shelter medicine program is dedicated to serving Mississippi animal shelters by offering on-site comprehensive shelter consultations.
These consultations address topics such as:
Staff education on shelter and animal management
Record keeping, animal handling and restraint
Shelter design, animal flow and population management
Medical and behavioral health and well-being, group housing and transport
Infectious disease prevention and management
Biosecurity, disinfection and implementation      
Outbreak investigation and discussions related to canine parvovirus and kennel cough, feline upper respiratory infection, ringworm, etc.
Protocol writing, development and implementation
Forensic necropsy services and assistance with criminal neglect and abuse cases
Spay/neuter services
To request assistance, email sheltermed@msstate.edu.
---
Community Engagement
In addition to the services above, realizing that education is the most critical component to solving the unwanted pet overpopulation issue, through our shelter medicine program and Humane Ethics and Animal Welfare Program, we actively support initiatives aimed at reaching school children with important messages about proper pet care; the general public with messages about responsible pet ownership, and pet owners with facts about the benefits of and need for spay and neuter.
An example of one such community engagement effort is our Animals in Focus program, which is dedicated to strengthening the human-animal bond and helping foster an interest in the animal sciences. The program reaches elementary age students through regular school visits and after-school programs.
---
Support the MSU CVM Shelter Medicine Program
With the exception of faculty salaries, the entire program is funded by grants and gifts. The upside to this method of funding is that we can provide our services at no cost to the animal shelters; the majority of those we service could not afford to pay even a nominal fee.
If you would like additional information about supporting the MSU CVM Shelter Medicine Program, contact Jimmy Kight, director of development, at jkight@foundation.msstate.edu.

Meet the Shelter Medicine Team
Phil Bushby, DVM, MS, ACVS
Professor Emeritus
Marcia Lane Endowed Chair of Humane Ethics and Animal Welfare
Kimberly Woodruff, DVM, MS, DACVPM (Epidemiology)   
Assistant Clinical Professor
Service Chief
Jacob Shivley, DVM, MS
Assistant Clinical Professor
Cooper Brookshire, DVM, MS, DACVPM (Epidemiology)
Assistant Clinical Professor
Emily Childers, CVT
Head Technician
Paula Morgan, CVT, BS