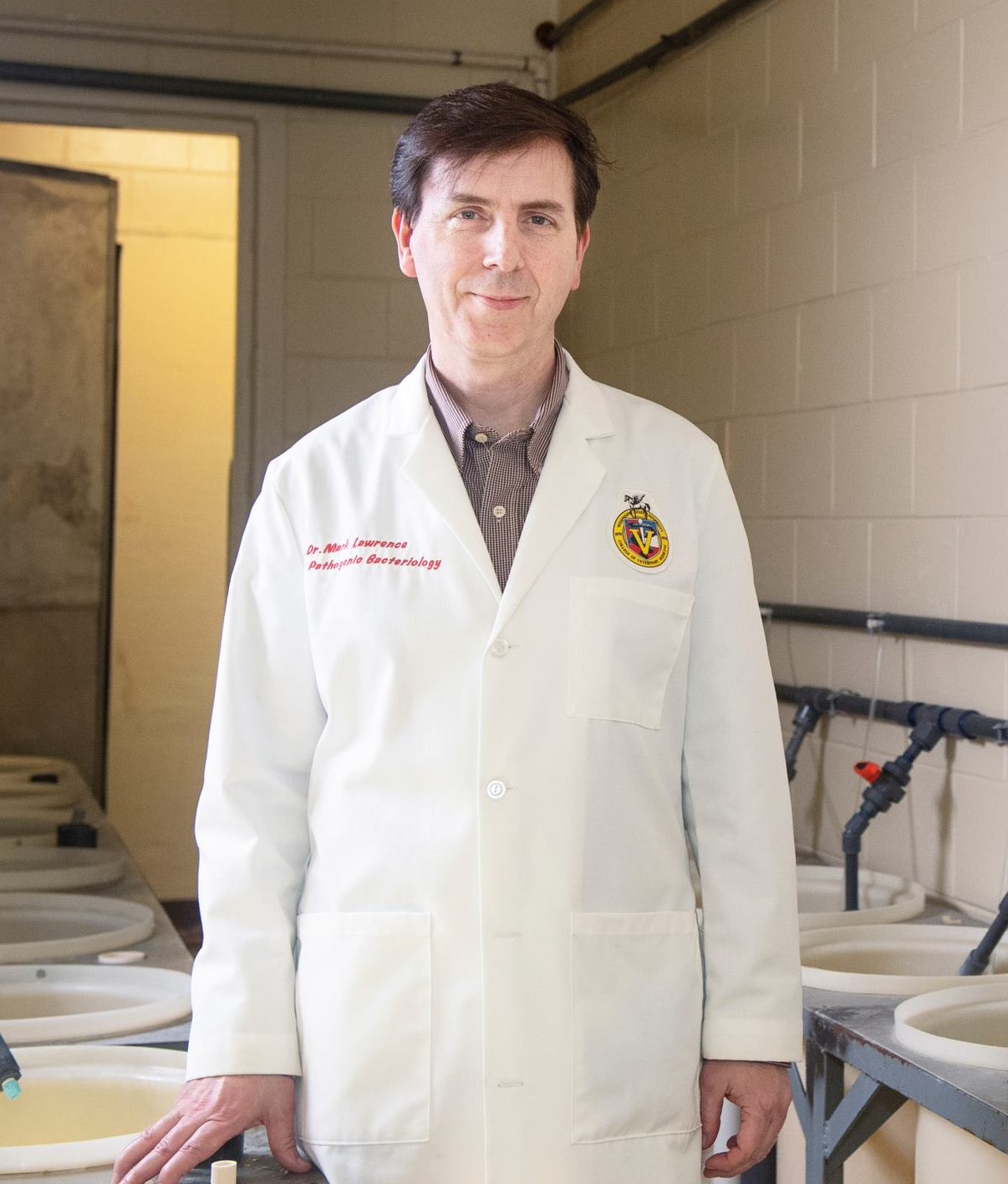 Overview
Summary:
Dr. Mark Lawrence is a professor at the Mississippi State University College of Veterinary Medicine in the Department of Comparative Biomedical Sciences. He is a veterinary microbiologist specializing in aquatic animal health, especially in bacterial diseases of catfish and other aquaculture species. His professional career has been dedicated to advancing aquatic animal health and food safety, especially in farmed U.S. catfish, through research and diagnostics. In recent years, the scope of his research and collaborations have expanded to advance aquatic animal health for aquaculture in developing nations, with the goal of improving livelihoods and reducing malnutrition globally.

Dr. Lawrence currently serves as director of the U.S. Agency for International Development-funded Feed the Future Innovation Lab for Fish (Fish Innovation Lab; www.fishinnovationlab.msstate.edu). The mission of the Fish Innovation Lab is to alleviate poverty and improve nutrition in vulnerable populations through reliable and inclusive provision of fish, a nutrient-rich animal source food. The countries being served in this program include Nigeria, Bangladesh, Kenya, Cambodia, and Zambia.

Prior to serving as director of the Fish Innovation Lab, Dr. Lawrence served the Mississippi State University College of Veterinary Medicine as Associate Dean for Research and Graduate Studies from 2011-2018 (Interim Associate Dean for Research and Graduate Studies from 2010-2011). Dr. Lawrence serves as director of the Global Center for Aquatic Food Security (GCAFS) at Mississippi State University from 2014-current. The goal of GCAFS is to bring together multidisciplinary MSU experts in aquaculture, fisheries, social sciences, and agricultural economics to solve world hunger.

Dr. Lawrence began collaborations with the FAO Aquaculture Branch in 2010, and the collaboration was formalized in 2014 with the signing of a FAO-MSU Joint Declaration recognizing the MSU GCAFS as a Center of Knowledge and member of the Global Aquaculture Advancement Partnership. Dr. Lawrence's collaborations with the FAO Aquaculture Branch culminated in two letters of agreement in which he provided expertise for FAO's development of a Progressive Management Pathway for Aquaculture Biosecurity (PMP/AB), which provides a framework for development of local, regional, and national biosecurity programs for aquaculture internationally.

Under the GCAFS, Dr. Lawrence manages the Marine Mammal-Sea Turtle Conservation, Recovery, and Management (MMST-CRM) program, which is a collaboration between Mississippi State University and the Institute for Marine Mammal Studies (IMMS) in Gulfport, MS that started in 2017. The MMST-CRM is primarily focused on marine mammal and sea turtle health and diagnostic investigations.

Dr. Lawrence has dedicated part of his professional career to serving the Mississippi catfish industry by serving as a diagnostician in the Fish Diagnostic Laboratory (FDL) at the Mississippi State University College of Veterinary Medicine. He has continuously served in the FDL from 1998-current, and over this period he served as the primary diagnostician approximately 12 weeks per year. He has personally handled over 700 diagnostic cases submitted.
Education:
Doctor of Philosophy (Ph.D.), Veterinary Medicine and Science, Louisiana State University and A&M College, 1997
Doctor of Veterinary Medicine (D.V.M.), Veterinary Medicine, Texas A&M University, 1990
Bachelor of Science (B.S.), Veterinary Medicine and Science, Texas A&M University, 1988
Research interests:
In research, Dr. Lawrence's interest is in mechanisms of bacterial pathogenesis, especially the application of comparative genomics, proteomics, and gene expression analysis to identify bacterial virulence factors and develop live attenuated vaccines. His initial focus was on Edwardsiella ictaluri, which is one of the most important pathogens affecting catfish aquaculture in the U.S. Using a high throughput screening method to identify E. ictaluri mutants susceptible to catfish serum and neutrophils, an effective live attenuated vaccine was developed and patented. The role of lipopolysaccharide in E. ictaluri virulence was also investigated, and LPS mutants were tested as live attenuated vaccines.

Dr. Lawrence has also been active in research on Flavobacterium columnare, which is one of the primary pathogens affecting catfish aquaculture, but it is also an important fish pathogen globally. Dr. Lawrence's team completed the first genome sequence of the species, developed a working challenge model in catfish, conducted one of the first comparisons of strain virulence in catfish, developed a F. columnare-specific qPCR assay, and conducted comparative genomics within the species to identify genes associated with highly virulent genetic group 2. His team is also one of the first to successfully construct gene knockouts in the species to determine the role of F. columnare denitrification enzymes in anaerobic growth and virulence.

Dr. Lawrence has also been a leader on research of Aeromonas hydrophila, which is historically considered an opportunistic fish pathogen in catfish. However, since 2009, large-scale outbreaks of disease and mortalities caused by A. hydrophila impacted channel catfish aquaculture. Using comparative genomics, a collaborative team from MSU, Auburn University, USDA ARS, and University of Arkansas-Pine Bluff determined that these outbreaks are caused by a recently emerged, highly clonal subtype of A. hydrophila. Dr. Lawrence's team completed genome sequences for several of these strains and bioinformatically identified surface and secreted proteins produced exclusively by this clonal virulent subgroup. Genes encoding these proteins were cloned, and recombinant proteins were expressed. Several of these show potential as effective vaccine antigens. Dr. Lawrence's team is currently pursuing construction of a recombinant vaccine by expressing these proteins in live attenuated E. ictaluri.

Listeria monocytogenes has one of the highest case fatality rates of the foodborne pathogens, and it causes several food recalls in the U.S. each year. However, despite many strains being highly virulent and causing foodborne outbreaks, other L. monocytogenes strains are non-pathogenic. Dr. Lawrence's research interest in L. monocytogenes is to identify and characterize genes unique to pathogenic strains to better understand pathogenesis of listeriosis and to improve detection of pathogenic strains. By sequencing non-pathogenic strain HCC23 (genomovar III) and conducting comparative genomics and proteomics between pathogenic strains EGD-e and F2365 (genomovars I and II), Dr. Lawrence's team identified protein-coding genes uniquely expressed by pathogenic strains in the context of infecting macrophages. Dr. Lawrence's team constructed gene deletion mutants, which led to development of an improved method for deletion mutagenesis of L. monocytogenes that has been used by listerial researchers globally. Dr. Lawrence's group determined that a cell wall surface protein designated LapB contributes to listerial virulence, and they determined the role of a new family of phosphodiesterase in regulating cyclic dinucleotides, which is a newly discovered mechanism L. monocytogenes uses to regulate expression of virulence genes.
Publications
Book, Chapter
Journal Article
Microplastics and Per- and Polyfluoroalkyl Substances (PFAS) Analysis in Sea Turtles and Bottlenose Dolphins along Mississippi's Coast. Analytica. Volume 4, Issue 1, Pages 12-26. 2023
Identification of genetic elements required for Listeria monocytogenes growth under limited nutrient conditions and virulence by a screening of a transposon insertion library. . Frontiers in Microbiology. Page 4030. 2022
Role of FruR transcriptional regulator in virulence of Listeria monocytogenes and identification of its regulon. . Plos one. Volume 17, Issue 9, Page e0274005. 2022
Using quantitative polymerase chain reaction (qPCR) and occupancy models to estimate atypical Aeromonas hydrophila (aAh) prevalence in catfish. Aquaculture. Page 735687. 2021
Virulence and live vaccine potential of Edwardsiella piscicida phoP and phoQ mutants in catfish against edwardsiellosis.. Journal of Fish Diseases. Volume 44, Issue 9, Pages 1463-1474. 2021
Bacterial microbiota of the hatchery-reared freshwater prawn Macrobrachium rosenbergii (de Man, 1879). Asian Fisheries Science. Volume 33, Issue 3, Pages 241-248. 2020
Contact-Zoonotic Bacteria of Warmwater Ornamental and Cultured Fish. Asian Fisheries Science. Volume 33, Issue S1, Pages 39-45. 2020
Identification of Antimicrobial Resistance Determinants in Aeromonas veronii Strain MS-17-88 Recovered From Channel Catfish (Ictalurus punctatus).. Frontiers in Cellular and Infection Microbiology. Volume 10, Page 348. 2020
Using quantitative polymerase chain reaction (qPCR) and occupancy models to estimate atypical Aeromonas hydrophila (aAh) prevalence in catfish. Aquaculture. Volume 530, Page 735687. 2020
An Edwardsiella piscicida esaS mutant reveals contribution to virulence and vaccine potential. Microbial Pathogenesis. Volume 143. 2020
Contributions of a LysR transcriptional regulator to listeria monocytogenes virulence and identification of its regulons. Journal of Bacteriology. Volume 202, Issue 10. 2020
Genomic diversity in flavobacterial pathogens of aquatic origin. Microbial Pathogenesis. Volume 142. 2020
Validation of a quantitative PCR assay for the detection of 2 Flavobacterium columnare genomovars.. Journal of veterinary diagnostic investigation : official publication of the American Association of Veterinary Laboratory Diagnosticians, Inc. Volume 32, Issue 3, Pages 356-362. 2020
Effects of siRNA silencing on the susceptibility of the fish cell line CHSE-214 to Yersinia ruckeri.. Veterinary research. Volume 51, Issue 1, Page 45. 2020
Comparative genomics of the fish pathogens Edwardsiella ictaluri 93-146 and Edwardsiella piscicida C07-087. Microbial Genomics. Volume 6, Issue 2. 2020
The role of denitrification genes in anaerobic growth and virulence of Flavobacterium columnare. Journal of Applied Microbiology. 2020
Effects of florfenicol feeding on diversity and composition of the intestinal microbiota of channel catfish (Ictalurus punctatus). Aquaculture Research. Volume 50, Issue 12, Pages 3663-3672. 2019
Characterization of a Novel Conjugative Plasmid in Edwardsiella piscicida Strain MS-18-199.. Frontiers in cellular and infection microbiology. Volume 9, Page 404. 2019
Validation of predicted virulence factors in listeria monocytogenes identified using comparative genomics. Toxins. Volume 11, Issue 9. 2019
Comparative genomics of Aeromonas veronii: Identification of a pathotype impacting aquaculture globally.. PloS one. Volume 14, Issue 8, Page e0221018. 2019
Antibacterial activities of trans-cinnamaldehyde, caprylic acid, and β-resorcylic acid against catfish pathogens. Aquaculture. Volume 504, Pages 334-344. 2019
Transposon mutagenesis and identification of mutated genes in growth-delayed Edwardsiella ictaluri. BMC Microbiology. Volume 19, Issue 1. 2019
Complete genome sequence data of multidrug-resistant Aeromonas veronii strain MS-18-37.. Data in Brief. Volume 23, Page 103689. 2019
Comparative genomics of Aeromonas hydrophila secretion systems and mutational analysis of hcp1 and vgrG1 genes from T6SS. Frontiers in Microbiology. Volume 10, Issue JAN. 2019
Recombinant ATPase of virulent aeromonas hydrophila protects channel catfish against motile aeromonassepticemia. Frontiers in Immunology. Volume 10, Issue JULY. 2019
Comparative susceptibility of channel catfish, ictalurus punctatus; blue catfish, ictalurus furcatus; and channel (♀)$\times$ blue (♂) hybrid catfish to Edwardsiella piscicida, Edwardsiella tarda, and Edwardsiella anguillarum. Journal of the World Aquaculture Society. Volume 49, Issue 1, Pages 197--204. 2018
Draft Genome Sequence of Fish Pathogen Aeromonas bestiarum GA97-22. Genome announcements. Volume 6, Issue 24. 2018
Universal stress proteins contribute Edwardsiella ictaluri virulence in catfish. Frontiers in Microbiology. Volume 9, Issue NOV. 2018
Taxonomic and functional metagenomic profile of sediment from a commercial catfish pond in Mississippi. Frontiers in Microbiology. Volume 9, Issue NOV. 2018
Development and characterization of a novel live attenuated vaccine against enteric septicemia of catfish. Frontiers in Microbiology. Volume 9, Issue AUG. 2018
Complete genome sequence of multidrug-resistant Edwardsiella ictaluri strain MS-17-156. Genome Announcements. Volume 6, Issue 22. 2018
Complete genome sequence of multidrug-resistant Plesiomonas shigelloides strain MS-17-188. Genome Announcements. Volume 6, Issue 18. 2018
Construction and evaluation of type III secretion system mutants of the catfish pathogen Edwardsiella piscicida. Journal of Fish Diseases. Volume 41, Issue 5, Pages 805-816. 2018
Invasion and replication of Yersinia ruckeri in fish cell cultures.. BMC veterinary research. Volume 14, Issue 1, Page 81. 2018
Identification of Differentially Regulated Edwardsiella ictaluri Proteins During Catfish Serum Treatment. Journal of Aquatic Animal Health. Volume 30, Issue 1, Pages 50-56. 2018
Stress-related genes promote edwardsiella ictaluri pathogenesis. PLoS ONE. Volume 13, Issue 3. 2018
Comparative Susceptibility of Channel Catfish, Ictalurus punctatus; Blue Catfish, Ictalurus furcatus; and Channel (♀) × Blue (♂) Hybrid Catfish to Edwardsiella piscicida, Edwardsiella tarda, and Edwardsiella anguillarum. . Journal of the World Aquaculture Society. Volume 49(1), Pages 197-204. 2018
The virulence and immune protection of Edwardsiella ictaluri HemR mutants in catfish. Fish and Shellfish Immunology. Volume 72, Pages 153-160. 2018
Draft genome sequences of three Aeromonas hydrophila isolates from catfish and tilapia. Genome announcements. Volume 5, Issue 3. 2017
Evaluation of three recombinant outer membrane proteins, OmpA1, Tdr, and TbpA, as potential vaccine antigens against virulent Aeromonas hydrophila infection in channel catfish (Ictalurus punctatus). Fish Shellfish Immunol. Volume 66, Pages 480-486. 2017
Listeria monocytogenes PdeE, a phosphodiesterase that contributes to virulence and has hydrolytic activity against cyclic mononucleotides and cyclic dinucleotides. Microb Pathog. Volume 110, Pages 399-408. 2017
Supplemental invasion of Salmonella from the perspective of Salmonella enterica serovars Kentucky and Typhimurium. BMC Microbiol. Volume 17, Issue 1, Page 88. 2017
The role of Edwardsiella ictaluri TonB mutant in Edwardsiella ictaluri virulence. Frontiers in Physiology. Volume 8, Issue DEC. 2017
Comparative phenotypic and genotypic analysis of Edwardsiella isolates from different hosts and geographic origins, with emphasis on isolates formerly classified as E. tarda, and evaluation of diagnostic methods. Journal of Clinical Microbiology. Volume 55, Issue 12, Pages 3466-3491. 2017
Small molecules targeting LapB protein prevent Listeria attachment to catfish muscle. PLoS ONE. Volume 12, Issue 12. 2017
Improving safety of a live attenuated Edwardsiella ictaluri vaccine against enteric septicemia of catfish and evaluation of efficacy. Veterinary Microbiology. Volume 210, Pages 83-90. 2017
Characterization of histopathological and ultrastructural changes in channel catfish experimentally infected with virulent Aeromonas hydrophila. Frontiers in Microbiology. Volume 8, Issue AUG. 2017
Comparative analysis of the Flavobacterium columnare genomovar I and II genomes. Frontiers in Microbiology. Volume 8, Issue JUL. 2017
Evaluation of three recombinant outer membrane proteins, OmpA1, Tdr, and TbpA, as potential vaccine antigens against virulent Aeromonas hydrophila infection in channel catfish (Ictalurus punctatus). Fish and Shellfish Immunology. Volume 66, Pages 480-486. 2017
Comparative genomics and transcriptional analysis of Flavobacterium columnare strain ATCC 49512. Frontiers in Microbiology. Volume 8, Issue APR. 2017
Complete genome sequence of Edwardsiella hoshinae ATCC 35051. Genome Announcements. Volume 5, Issue 6. 2017
Complete genome sequence of Edwardsiella ictaluri isolate RUSVM-1 recovered from Nile tilapia (Oreochromis niloticus) in the Western Hemisphere. Genome Announcements. Volume 5, Issue 24. 2017
Salmonella enterica serovar Kentucky flagella are required for broiler skin adhesion and Caco-2 cell invasion. Applied and Environmental Microbiology. Volume 83, Issue 2. 2017
Draft genome sequence of Aeromonas hydrophila TN97-08. Genome announcements. Volume 4, Issue 3. 2016
The role of Listeria monocytogenes cell wall surface anchor protein LapB in virulence, adherence, and intracellular replication. Microb Pathog. Volume 92, Pages 19-25. 2016
Protective efficacy of four recombinant fimbrial proteins of virulent Aeromonas hydrophila strain ML09-119 in channel catfish. Veterinary Microbiology. Volume 197, Pages 8-14. 2016
Ferric hydroxamate uptake system contributes to Edwardsiella ictaluri virulence. Microbial Pathogenesis. Volume 100, Pages 195-200. 2016
Involvement of tolQ and tolR genes in Edwardsiella ictaluri virulence. Microbial Pathogenesis. Volume 100, Pages 90-94. 2016
Identification of Salmonella enterica serovar Kentucky genes involved in attachment to chicken skin.. BMC microbiology. Volume 16, Issue 1, Page 168. 2016
The role of Listeria monocytogenes cell wall surface anchor protein LapB in virulence, adherence, and intracellular replication. Microbial Pathogenesis. Volume 92, Pages 19-25. 2016
Complete genome sequence of Edwardsiella piscicida isolate S11-285 recovered from channel catfish (Ictalurus punctatus) in Mississippi, USA. Genome Announcements. Volume 4, Issue 6. 2016
Complete genome sequence of fish pathogen Aeromonas hydrophila AL06-06. Genome Announcements. Volume 3, Issue 2. 2016
Draft genome sequences of four virulent Aeromonas hydrophila strains from catfish aquaculture. Genome Announcements. Volume 4, Issue 4. 2016
Genome sequence of the fish pathogen Flavobacterium columnare genomovar II strain 94-081. Genome Announcements. Volume 4, Issue 3. 2016
Draft Genome Sequences of Edwardsiella ictaluri Strains LADL11-100 and LADL11-194 Isolated from Zebrafish Danio rerio.. Genome announcements. Volume 3, Issue 6. 2015
Complete Genome Sequence of an Edwardsiella piscicida-Like Species, Recovered from Tilapia in the United States.. Genome announcements. Volume 3, Issue 5. 2015
A novel suicide plasmid for efficient gene mutation in Listeria monocytogenes. Plasmid. Volume 81, Pages 1-8. 2015
Identification of high-risk Listeria monocytogenes serotypes in lineage I (serotype 1/2a, 1/2c, 3a and 3c) using multiplex PCR. Journal of Applied Microbiology. Volume 119, Issue 3, Pages 845-852. 2015
Complete Genome Sequence of an Edwardsiella piscicida-Like Species Isolated from Diseased Grouper in Israel.. Genome announcements. Volume 3, Issue 4. 2015
Identification of differentially abundant proteins of Edwardsiella ictaluri during Iron Restriction. PLoS ONE. Volume 10, Issue 7. 2015
Complete Genome Sequence of Edwardsiella tarda Isolate FL95-01, Recovered from Channel Catfish.. Genome announcements. Volume 3, Issue 3. 2015
Genome comparison of Listeria monocytogenes serotype 4a strain HCC23 with selected lineage I and lineage II L. monocytogenes strains and other Listeria strains.. Genomics data. Volume 2, Pages 219-25. 2014
Tissue persistence and vaccine efficacy of tricarboxylic acid cycle and one-carbon metabolism mutant strains of Edwardsiella ictaluri. Vaccine. Volume 32, Issue 31, Pages 3971-3976. 2014
Genome Sequence of the Oleaginous Yeast Rhodotorula glutinis ATCC 204091.. Genome announcements. Volume 2, Issue 1. 2014
Effect of multiple mutations in tricarboxylic acid cycle and one-carbon metabolism pathways on Edwardsiella ictaluri pathogenesis. Veterinary Microbiology. Volume 169, Issue 1-2, Pages 107-112. 2014
Virulence characterization of Listeria monocytogenes.. Methods in molecular biology (Clifton, N.J.). Volume 1157, Pages 157-65. 2014
Complete Genome Sequence of a Channel Catfish Epidemic Isolate, Aeromonas hydrophila Strain ML09-119.. Genome announcements. Volume 1, Issue 5. 2013
Tricarboxylic Acid Cycle and One-Carbon Metabolism Pathways Are Important in Edwardsiella ictaluri Virulence. PLoS ONE. Volume 8, Issue 6. 2013
Construction and evaluation of an Edwardsiella ictaluri fhuC mutant. Veterinary Microbiology. Volume 162, Issue 2-4, Pages 858-865. 2013
Use of bioluminescence mutant screening for identification of Edwardsiella ictaluri genes involved in channel catfish (Ictalurus punctatus) skin colonization.. Veterinary microbiology. Volume 162, Issue 2-4, Pages 724-730. 2013
Complete genome sequence of channel catfish gastrointestinal septicemia isolate Edwardsiella tarda C07-087. Genome Announcements. Volume 1, Issue 6. 2013
Genome sequence of the fish pathogen Flavobacterium columnare ATCC 49512.. Journal of bacteriology. Volume 194, Issue 10, Pages 2763-4. 2012
Genome sequence of Edwardsiella ictaluri 93-146, a strain associated with a natural channel catfish outbreak of enteric septicemia of catfish.. Journal of bacteriology. Volume 194, Issue 3, Pages 740-1. 2012
RNA-seq based transcriptional map of bovine respiratory disease pathogen "Histophilus somni 2336".. PloS one. Volume 7, Issue 1, Page e29435. 2012
Transcriptome profile of a bovine respiratory disease pathogen: Mannheimia haemolytica PHL213.. BMC bioinformatics. Volume 13 Suppl 15, Page S4. 2012
Proteomic expression profiles of virulent and avirulent strains of Listeria monocytogenes isolated from macrophages.. Journal of proteomics. Volume 74, Issue 10, Pages 1906-17. 2011
Genome sequence of lineage III Listeria monocytogenes strain HCC23.. Journal of bacteriology. Volume 193, Issue 14, Pages 3679-80. 2011
The proteogenomic mapping tool.. BMC bioinformatics. Volume 12, Page 115. 2011
TAAPP: Tiling Array Analysis Pipeline for Prokaryotes.. Genomics, proteomics & bioinformatics. Volume 9, Issue 1-2, Pages 56-62. 2011
Importance of skin abrasion as a primary site of adhesion for Edwardsiella ictaluri and impact on invasion and systematic infection in channel catfish Ictalurus punctatus. Veterinary Microbiology. Volume 148, Issue 2-4, Pages 425-430. 2011
Importance of skin abrasion as a primary site of adhesion for Edwardsiella ictaluri and impact on invasion and systematic infection in channel catfish Ictalurus punctatus.. Veterinary microbiology. Volume 148, Issue 2-4, Pages 425-30. 2011
Proteome and membrane fatty acid analyses on Oligotropha carboxidovorans OM5 grown under chemolithoautotrophic and heterotrophic conditions.. PloS one. Volume 6, Issue 2, Page e17111. 2011
Genome sequence of the solvent-producing bacterium Clostridium carboxidivorans strain P7T.. Journal of bacteriology. Volume 192, Issue 20, Pages 5554-5. 2010
Complete genome and comparative analysis of the chemolithoautotrophic bacterium Oligotropha carboxidovorans OM5.. BMC genomics. Volume 11, Page 511. 2010
Development of stable reporter system cloning luxCDABE genes into chromosome of Salmonella enterica serotypes using Tn7 transposon.. BMC microbiology. Volume 10, Page 197. 2010
Proteomic analysis of the fish pathogen Flavobacterium columnare. Proteome Science. Volume 8. 2010
Identification of novel non-coding small RNAs from Streptococcus pneumoniae TIGR4 using high-resolution genome tiling arrays.. BMC genomics. Volume 11, Page 350. 2010
Verification of an Edwardsiella ictaluri-specific diagnostic PCR.. Letters in applied microbiology. Volume 50, Issue 2, Pages 153-7. 2010
Gene model detection using mass spectrometry.. Methods in molecular biology (Clifton, N.J.). Volume 604, Pages 137-44. 2010
The transcriptional response of Pasteurella multocida to three classes of antibiotics.. BMC genomics. Volume 10 Suppl 2, Page S4. 2009
High-throughput bioluminescence-based mutant screening strategy for identification of bacterial virulence genes. Applied and Environmental Microbiology. Volume 75, Issue 7, Pages 2166-2175. 2009
High-throughput bioluminescence-based mutant screening strategy for identification of bacterial virulence genes.. Applied and environmental microbiology. Volume 75, Issue 7, Pages 2166-75. 2009
Proteome analysis of Edwardsiella ictaluri. Proteomics. Volume 9, Issue 5, Pages 1353-1363. 2009
Proteome analysis of Edwardsiella ictaluri.. Proteomics. Volume 9, Issue 5, Pages 1353-63. 2009
Comparative proteomic analysis of Listeria monocytogenes strains F2365 and EGD.. Applied and environmental microbiology. Volume 75, Issue 2, Pages 366-73. 2009
Genome sequence of the chemolithoautotrophic bacterium Oligotropha carboxidovorans OM5T.. Journal of bacteriology. Volume 190, Issue 15, Pages 5531-2. 2008
Characterization of the rrn operons in the channel catfish pathogen Edwardsiella ictaluri.. Journal of applied microbiology. Volume 104, Issue 6, Pages 1790-6. 2008
Genetic and virulence characterization of Flavobacterium columnare from channel catfish (Ictalurus punctatus). Journal of Applied Microbiology. Volume 104, Issue 5, Pages 1302-1310. 2008
Genetic and virulence characterization of Flavobacterium columnare from channel catfish (Ictalurus punctatus).. Journal of applied microbiology. Volume 104, Issue 5, Pages 1302-10. 2008
Quantitative analysis of Streptococcus pneumoniae TIGR4 response to in vitro iron restriction by 2-D LC ESI MS/MS.. Proteomics. Volume 8, Issue 10, Pages 2104-14. 2008
Development of bioluminescent Salmonella strains for use in food safety.. BMC microbiology. Volume 8, Page 10. 2008
Effects of subminimum inhibitory concentrations of antibiotics on the Pasteurella multocida proteome: a systems approach.. Comparative and functional genomics. Page 254836. 2008
A multiplex PCR for species- and virulence-specific determination of Listeria monocytogenes.. Journal of microbiological methods. Volume 71, Issue 2, Pages 133-40. 2007
Toward an improved laboratory definition of Listeria monocytogenes virulence.. International journal of food microbiology. Volume 118, Issue 2, Pages 101-15. 2007
Characteristics of cell-mediated, anti-listerial immunity induced by a naturally avirulent Listeria monocytogenes serotype 4a strain HCC23.. Archives of microbiology. Volume 188, Issue 3, Pages 251-6. 2007
Broad host range fluorescence and bioluminescence expression vectors for Gram-negative bacteria. Plasmid. Volume 57, Issue 3, Pages 286-295. 2007
Broad host range fluorescence and bioluminescence expression vectors for Gram-negative bacteria.. Plasmid. Volume 57, Issue 3, Pages 286-95. 2007
Listeria monocytogenes subgroups IIIA, IIIB, and IIIC delineate genetically distinct populations with varied pathogenic potential.. Journal of clinical microbiology. Volume 44, Issue 11, Pages 4229-33. 2006
AgBase: a functional genomics resource for agriculture.. BMC genomics. Volume 7, Page 229. 2006
Use of a putative transcriptional regulator gene as target for specific identification of Staphylococcus epidermidis.. Letters in applied microbiology. Volume 43, Issue 3, Pages 325-30. 2006
Development of bioluminescent Edwardsiella ictaluri for noninvasive disease monitoring. FEMS Microbiology Letters. Volume 260, Issue 2, Pages 216-223. 2006
Development of bioluminescent Edwardsiella ictaluri for noninvasive disease monitoring.. FEMS microbiology letters. Volume 260, Issue 2, Pages 216-23. 2006
Effects of subminimum inhibitory concentrations of antibiotics on the Pasteurella multocida proteome.. Journal of proteome research. Volume 5, Issue 3, Pages 572-80. 2006
PCR detection of pathogenic Leptospira genomospecies targeting putative transcriptional regulator genes. Canadian Journal of Microbiology . Volume 52, Issue 3, Pages 272-277. 2006
Listeria monocytogenes serotype 4b strains belonging to lineages I and III possess distinct molecular features.. Journal of clinical microbiology. Volume 44, Issue 1, Pages 214-7. 2006
PCR amplification of a species-specific putative transcriptional regulator gene reveals the identity of Enterococcus faecalis. Research in microbiology. Volume 156, Issue 9, Pages 944--948. 2005
Proteomic analysis using an unfinished bacterial genome: the effects of subminimum inhibitory concentrations of antibiotics on Mannheimia haemolytica virulence factor expression.. Proteomics. Volume 5, Issue 18, Pages 4852-63. 2005
Identification and characterization of a two-component hemolysin from Edwardsiella ictaluri.. Veterinary microbiology. Volume 108, Issue 3-4, Pages 281-9. 2005
Rapid identification of Streptococcus pyogenes with PCR primers from a putative transcriptional regulator gene.. Research in microbiology. Volume 156, Issue 4, Pages 564-7. 2005
Comparative assessment of acid, alkali and salt tolerance in Listeria monocytogenes virulent and avirulent strains.. FEMS microbiology letters. Volume 243, Issue 2, Pages 373-8. 2005
Effects of sub-minimum inhibitory concentration antibiotic levels and temperature on growth kinetics and outer membrane protein expression in Mannheimia haemolytica and Haemophilus somnus.. Canadian journal of veterinary research = Revue canadienne de recherche veterinaire. Volume 69, Issue 1, Pages 1-10. 2005
Evaluation of PCR primers from putative transcriptional regulator genes for identification of Staphylococcus aureus.. Letters in applied microbiology. Volume 40, Issue 1, Pages 69-73. 2005
Isolation and PCR amplification of a species-specific oxidoreductase-coding gene region in Listeria grayi.. Canadian journal of microbiology. Volume 51, Issue 1, Pages 95-8. 2005
Species-specific PCR determination of Listeria seeligeri.. Research in microbiology. Volume 155, Issue 9, Pages 741-6. 2004
Specific PCR identification of Pasteurella multocida based on putative transcriptional regulator genes.. Journal of microbiological methods. Volume 58, Issue 2, Pages 263-7. 2004
PCR detection of a putative N-acetylmuramidase gene from Listeria ivanovii facilitates its rapid identification.. Veterinary microbiology. Volume 101, Issue 2, Pages 83-9. 2004
Use of PCR primers derived from a putative transcriptional regulator gene for species-specific determination of Listeria monocytogenes.. International journal of food microbiology. Volume 91, Issue 3, Pages 297-304. 2004
Identification of a gene encoding a putative phosphotransferase system enzyme IIBC in Listeria welshimeri and its application for diagnostic PCR.. Letters in applied microbiology. Volume 38, Issue 2, Pages 151-7. 2004
Characterization of virulent and avirulent Listeria monocytogenes strains by PCR amplification of putative transcriptional regulator and internalin genes.. Journal of medical microbiology. Volume 52, Issue Pt 12, Pages 1065-1070. 2003
Alteration of DNA adenine methylase (Dam) activity in Pasteurella multocida causes increased spontaneous mutation frequency and attenuation in mice.. Microbiology (Reading, England). Volume 149, Issue Pt 8, Pages 2283-2290. 2003
Identification of Listeria innocua by PCR targeting a putative transcriptional regulator gene.. FEMS microbiology letters. Volume 223, Issue 2, Pages 205-10. 2003
Association of Actinobacillus pleuropneumoniae capsular polysaccharide with virulence in pigs.. Infection and immunity. Volume 71, Issue 6, Pages 3320-8. 2003
The Edwardsiella ictaluri O polysaccharide biosynthesis gene cluster and the role of O polysaccharide in resistance to normal catfish serum and catfish neutrophils.. Microbiology (Reading, England). Volume 149, Issue Pt 6, Pages 1409-1421. 2003
Cloning and mutagenesis of a serotype-specific DNA region involved in encapsulation and virulence of Actinobacillus pleuropneumoniae serotype 5a: concomitant expression of serotype 5a and 1 capsular polysaccharides in recombinant A. pleuropneumoniae serotype 1.. Infection and immunity. Volume 66, Issue 7, Pages 3326-36. 1998
Attenuation, persistence, and vaccine potential of an Edwardsiella ictaluri purA mutant.. Infection and immunity. Volume 65, Issue 11, Pages 4642-51. 1997
Immunization with bacterial antigens: edwardsiellosis.. Developments in biological standardization. Volume 90, Pages 125-34. 1997
Note, Journal
Professional Research Publication for Federal Funders
Fish Innovation Lab: Internal Self-Assessment . Professional Research Publication for Federal Funders. 2023
Published Abstract
Haplotype shift and genomic variation in atypical Aeromonas hydrophila (aAh) isolates of channel catfish aquaculture in the southeastern US. . The Conference of Research Workers in Animal Disease. 2020
Genomic analysis of atypical Aeromonas hydrophila (aAh) from catfish aquaculture in the southeastern United States with evidence of haplotype shifts from diagnostic case submissions. . AFS-FHS Virtual Summer Seminar Series. 2020
Presentations
"Effect of low dissolved oxygen on the pathogenesis of Edwardsiella piscicida in channel and hybrid catfish.." World Aquaculture Society Meeting, San Diego California, , . 2022
"Phenotypic characterization of Edwardsiella piscicida isolates from catfish aquaculture.." World Aquaculture Society Meeting, San Diego California, , . 2022
Abstract
"Expanding our knowledge of the Edwardsiella. ." American Society Microbiology, , Boston, MA. 2016
"Comparison of Edwardsiella ictaluri isolates from different hosts and geographic origins." Food Security for the Future: The Role of Aquatic Animal Health, , Starkville, MS. 2015
"Recent advancements in our knowledge of Edwardsiella piscicida and E. tarda." 40th Annual Eastern Fish Health Workshop, American Fisheries Society, Charleston, South Carolina. 2015
"Recent advancements in our knowledge of the Edwardsiella." Food Security for the Future: The Role of Aquatic Animal Health, , Starkville, MS. 2015
Oral Presentation
"Development of live attenuated Aeromonas hydrophila vaccine candidates. ." Conference of Research Workers in Animal Diseases (CRWAD. 2021), Conference of Research Workers in Animal Diseases (CRWAD. 2021), Chicago, IL. 2021
"Identification of genetic mechanisms of antimicrobial resistant in aquaculture pathogens." Conference of Research Workers in Animal Diseases (CRWAD. 2021), Conference of Research Workers in Animal Diseases (CRWAD. 2021), Chicago, IL. 2021
"Trans-cinnamaldehyde as an antimicrobial feed additive to control and prevent enteric septicemia of catfish.." Conference of Research Workers in Animal Diseases (CRWAD. 2021), Conference of Research Workers in Animal Diseases (CRWAD. 2021), Chicago, IL. 2021
"Developing a dual live attenuated vaccine to prevent motile aeromonas septicemia and enteric septicemia of catfish." Conference of Research Workers in Animal Diseases, Conference of Research Workers in Animal Diseases, Chicago, Illinois. 2021
"Role of branched-chain alpha-keto acid dehydrogenase (BKD) complex in Listeria monocytogenes virulence." CVM Research Day, Nutramax/CVM ORGS, MS State, MS. 2021
"Genetic Mechanisms of AMR in Aquaculture Pathogens.." Technical Seminar on Aquaculture Biosecurity: Understanding Antimicrobial Resistance in Aquaculture., Food and Agricultural Organization of the UN, Virtual. 2021
"Haplotype and genomic variation in atypical Aeromonas hydrophila (aAh) of channel catfish aquaculture in the US ." 101st Conference of Research Workers in Animal Diseases Dec 5-8, 2020, CRWAD, CHICAGO. 2020
"They are the same but different: Comparative genomics of two atypical Aeromonas hydrophila pathotypes found in catfish aquaculture of the southeast." Annual Meeting of the Mississippi Chapter of the American Fisheries Society, Mississippi Chapter of the American Fisheries Society, Gulfport, MS. 2020
"They are the same but different: Comparative genomics of two atypical Aeromonas hydrophila pathotypes found in catfish aquaculture of the southeast." Annual Meeting of the Southern Division of the American Fisheries Society, Southern Division of the American Fisheries Society, Little Rock, AR. 2020
"Evaluating atypical Aeromonas hydrophila (aAh) in catfish aquaculture in the Delta region of Mississippi." Conference of Research Workers in Animal Diseases, CRWAD, Chicago, Illinois. 2018
"Comparative genomics reveals the species-based diversity of Edwardsiella genus members." 8th International Symposium on Aquatic Animal Health, American Fisheries Society Fish Health Section, Charlottetown, Prince Edward Island, Canada. 2018
"Control strategies for virulent Aeromonas hydrophila in catfish aquaculture by vaccination and informing pond management. ." Agriculture and Food Research Initiative Animal Health and Well-being Program Areas Annual Project Director Meeting , USDA, Chicago, IL. 2017
"Advancing our knowledge of the bacteria formerly known as Edwardsiella tarda.." 42nd Eastern Fish Health Workshop, , East Lansing, MI. 2017
"Expanding our knowledge of Edwarsdiella. ." American Fisheries Society Fish Health Section Annual Meeting, American Fisheries Society Fish Health Section Annual Meeting, East Lansing, MI. 2017
"Phenotypic and genetic characterization of Edwarsdiella isolates from different hosts and geographic regions. ." 41 st Eastern Fish Health Workshop, , Atlantic Beach, NC. 2016
Poster
"Proteomic analysis of outer membrane vesicles of Aeromonas hydrophila ML09-119." Conference of Research Workers in Animal Diseases, Conference of Research Workers in Animal Diseases, Chicago, Illinois. 2021
"Characterization of the Role of fruR in Listeria monocytogenes Virulence and Identification of Its Regulons." IMED 2021, International Society for Infectious Diseases, Virtual. 2021
"Role of LysR-type transcriptional regulators in Listeria monocytogenes virulence." CVM Research Day, Nutramax/CVM ORGS, MS State, MS. 2021
"Control strategies for virulent Aeromonas hydrophila in catfish aquaculture by vaccination and informing pond management." CRWAD, Conference of Research Workers in Animal Diseases, Chicago, Il. 2019
"Control of virulent Aeromonas hydrophila in catfish aquaculture by vaccination and informing pond management." Conference of Research Workers in Animal Diseases, CRWAD, Chicago, Illinois. 2018
"Comparative Genomic Analysis of Virulence Factors in the Aeromonas genus." MSU Undergraduate Research Symposium, Shackouls Honors College, Mississippi State University. 2018
Areas of Expertise
Veterinary microbiology Aquatic animal health Bacterial pathogenesis Veterinary vaccines Bacterial genomics International food security Marine mammal and sea turtle health