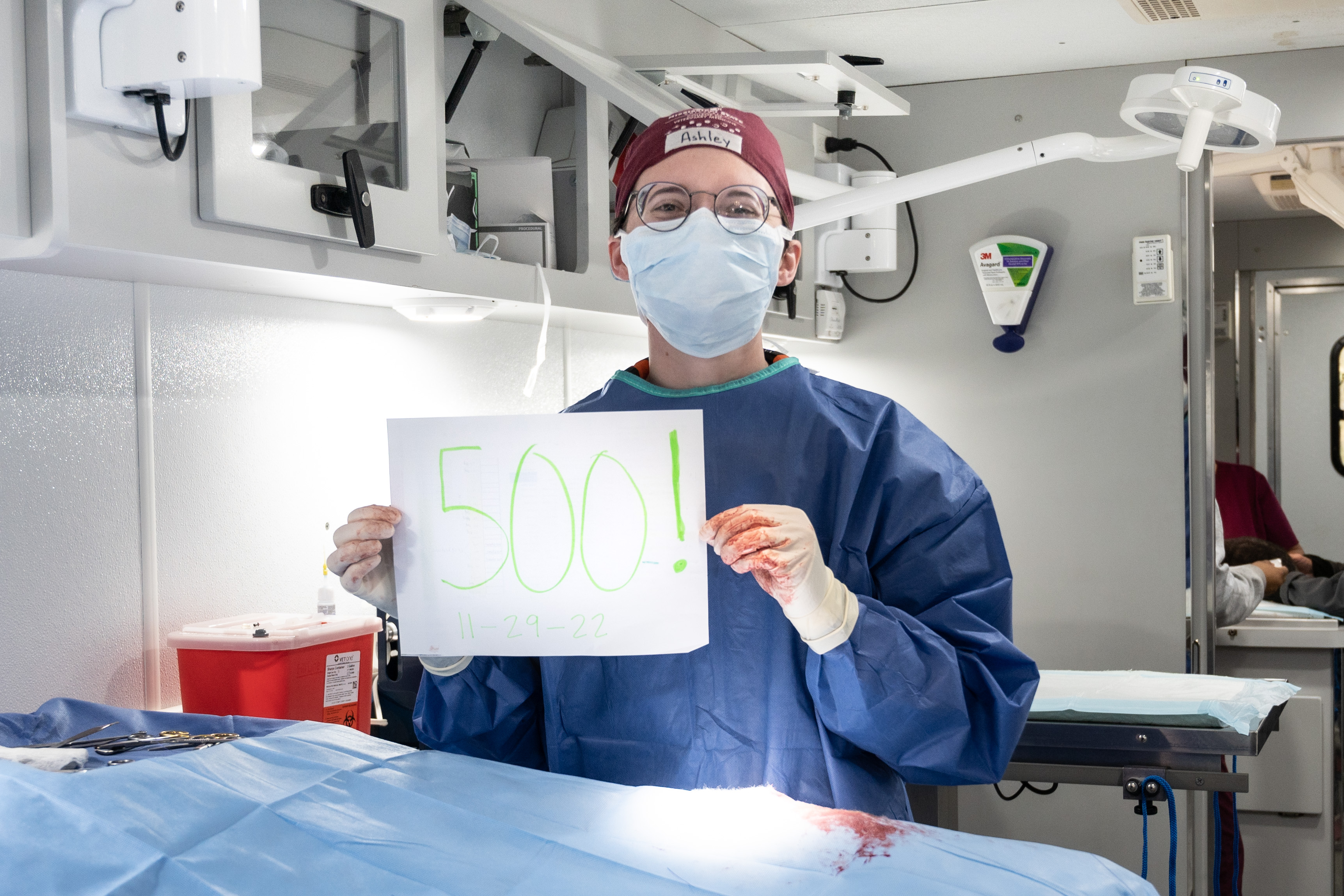 On average, a DVM student at Mississippi State University's College of Veterinary Medicine will complete between 60 and 70 surgeries before graduating, which is well beyond the national average. However, with that knowledge in mind, Class of 2023 student Ashley Smith of Alexander, Ark., set a goal for herself of 100 surgeries before graduation. On Tuesday, November 29th, Smith hit a milestone far exceeding that goal, officially completing her 500th surgery in CVM's mobile veterinary unit stationed at the Oktibbeha County Humane Society.  
"Like most vet students, I knew I wanted to be a veterinarian from a very young age, but I didn't know what kind of veterinarian I wanted to be until I started to volunteer for a low-cost spay and neuter clinic while I was an undergraduate at the University of Arkansas," Smith said. "At that clinic, I met the late Dr. Eric Jayne who inspired me with his love for helping people and animals in lower-income areas. I knew from that moment on that I wanted to surround myself with people like him and other shelter and rescue workers and help them the best way I could; for me, that meant getting really good at spay and neuter."
The surgery count started with Smith's very first dog neuter surgery during her second year of studies at MSU CVM. Second-year students participate in six spay/neuter surgeries on area shelter dogs over the course of the year, before transitioning into clinical rotations during their third year of studies.
According to associate clinical professor and Shelter Medicine Service Chief Dr. Jake Shivley, this milestone is simply extraordinary. "Most of our students have the benefit of performing 60, 70—maybe 100— spay/neuter surgeries before graduation," he said. "Ashley's dedication to shelter medicine and acquiring real world, authentic surgical experience is clearly on display when one considers her significant achievement— and I would imagine that she is in the top 0.01% of graduating veterinary students around the world who have achieved such a milestone!"
In addition to her hands-on surgical experience at MSU CVM, Smith credits an externship with Dr. Jeff Baker and Dr. Priya Kurup with helping her far surpass her goals and boosting her confidence in the operating room. "Surpassing my goal by five times is completely mind-blowing," Smith said. "It really makes me feel like I can make a meaningful impact on population control. This accomplishment means I can confidently return to Arkansas and help scores of animals as well as all those people who originally inspired me to go into shelter medicine!"