Animals in Focus is an outreach program dedicated to strengthening the animal-human bond and helping foster an interest in the animal sciences. Animals in Focus serves the local community and underserved regions in the state, focusing on reaching elementary age students through regular school visits and after-school programs. Students learn how to safely interact with dogs and also begin to place a higher value on the lives of animals and humans.
Since 2016, Animals in Focus has made regularly scheduled visits to Palmer Home, an area not-for-profit organization providing residential care without charge to children in need. Individual mentorship and the use of animals in these visits often prove to be therapeutic for the children.
Why Schedule an Animals in Focus visit?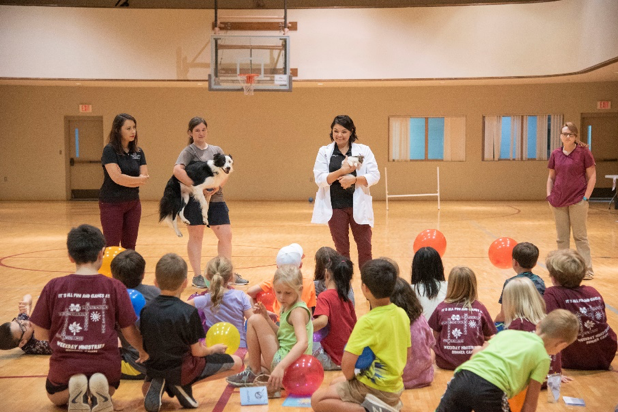 Current research supports the idea that children perform better when animals are routinely present in academic settings. These interactive experiences have proven especially beneficial for students who have emotional illnesses, attention and behavioral difficulties, or physical and mental disabilities.
To schedule an Animals In Focus visit at your school, club, or community event, please email sheltermed@msstate.edu.
To learn more about Animals in Focus or to make a financial contribution to the program, please contact MSU CVM Development Director Jimmy Kight at (662) 325-5893 or jkight@foundation.msstate.edu.