MSU CVM offers an array of programs and services aimed specifically at meeting the needs of animals and people to help make the world a better place. From our student-run Homeward Bound Project to our One Health and Tropical Veterinary Medicine Student Exchange Program, MSU CVM is making a difference.
Whether your interests lie in humane ethics and animal welfare, feeding the hungry, preventing deadly infectious disease outbreaks or mentoring aspiring young students, MSU CVM offers something to fit the bill. Scores of faculty- and student-led opportunities are available here, and whether through classes, clubs, programs or organizations, we encourage you to join our efforts. As you learn and serve, you will benefit greatly—and so will our ever-evolving world!
The following list provides only a sampling of the College's many clubs and organizations available to MSU CVM veterinary students and others pursuing animal-health related careers:
---
Student Veterinary Emergency and Critical Care Society (SVECCS)
SVECCS is the student veterinary emergency and critical care club. This club is relatively new to MSU CVM, but over the past few years, has expanded greatly and become an invaluable source of information for any student who is looking for the adrenaline rush that veterinary medicine has to offer! SVECCS offers a wide variety of topics that fall into many areas of veterinary medicine. From feline, canine, bovine, equine and exotics, our goal is to provide you with valuable information on common emergencies and critical care situations. Along with lectures, our club offers many hands-on opportunities.
---
Therio Club
Have you ever come across the word Theriogenology and thought, "What does that mean?" Perhaps you asked and were told 'Oh, that's animal breeding," and you immediately thought of Bovine A.I. and those long gloves… If so, then you should check out the Therio Club, where you will find the world of theriogenology is SO MUCH MORE! In Therio Club you will be able to explore the many facets of animal reproduction including exposure to advanced assisted reproduction techniques.
---
Wildlife Exotic Zoo Avian Aquatic Animal Medicine (WEZAAM)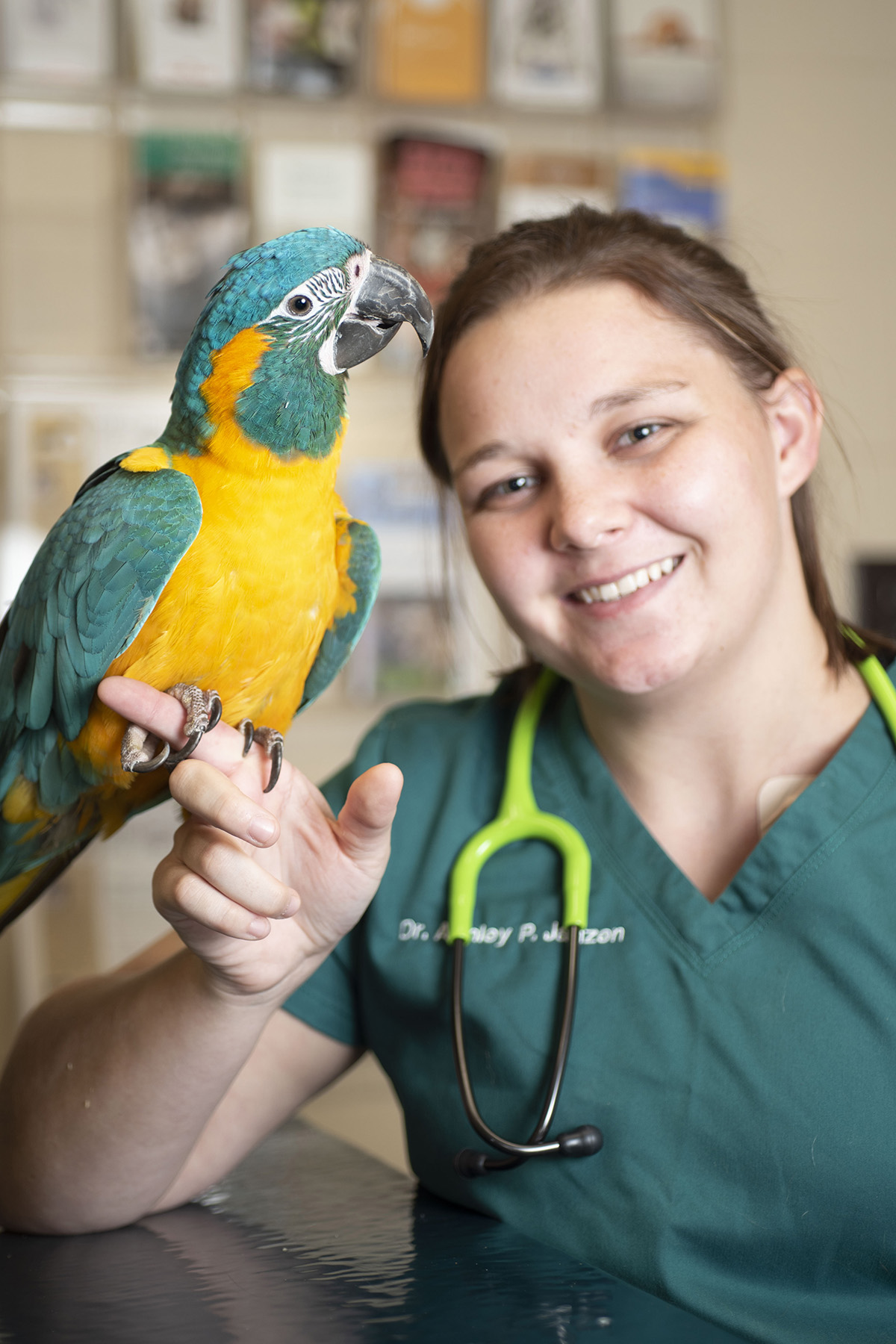 The purpose of the WEZAAM (Wildlife, Exotic, Zoo, Avian, and Aquatic Animal Medicine) club at MSU CVM is to expose members to a variety of animal species that do not receive a great deal of emphasis in the classroom or during rotation time. The club informs students about veterinary medicine with respect to the world of exotic animals and provides a way for those interested in wildlife and exotic medicine to pursue their passion. Club dues cover guest lecturers, food, wet labs, and field trips throughout the school year. Our goal is to give attention to each of these special fields of interest through lectures from conservationists and wildlife rehabilitation specialists, a behind the scenes trip to a zoo, a trip to Cedar Hill Cat Sanctuary, and a variety of other lectures and labs!
---
Christian Veterinary Fellowship (CVF)
Christian Veterinary Fellowship is the student chapter of the Christian Veterinary Mission that promotes spiritual growth and professional development of veterinary students. This organization serves to provide encouragement for your Christian walk and opportunities to serve Christ as a veterinarian. We meet every Thursday at noon for fellowship and a faculty-led devotional. We also participate in local service projects as well as foreign short-term mission trips. The CVF officer team hopes to meet the mission statement of Christian Veterinary Mission "To challenge, empower and facilitate veterinarians to serve others through their profession, living out their Christian faith."
---
Student Chapter of the Association of Shelter Veterinarians (SCACV)
Shelter medicine is a rapidly-growing veterinary specialty. If you find yourself asking what a veterinarian would do in a shelter setting, our club may be for you! The MSU CVM Shelter Medicine Club is comprised of both a Student Chapter of the Association of Shelter Veterinarians and a Student Chapter of the Humane Society Veterinary Medical Association. Our meetings include informative lectures on different topics within the specialty, case studies from our shelter medicine resident, and trips to shelters in our community.
---
American Association of Bovine Practitioners (AABP)
The American Association of Bovine Practitioners is the club to join if you are interested in food animal medicine. Meetings, with a meal, are held monthly with guest speakers, faculty or staff from the MSU CVM. This is a great club for anyone interested in food animal medicine or individuals with experience in food animal medicine. We also offer practical experience through multiple wet labs. Just some examples include the basic cattle handling lab, palpation/artificial insemination lab, dystocia lab, and field necropsy. Club dues grant you membership into the national AABP, which offers numerous scholarships and externship opportunities.
---
Veterinary Business Management Association (VBMA)
The Veterinary Business Management Association is a national, student-driven organization dedicated to advancing the profession through increasing business knowledge, creating networking opportunities, and empowering students to achieve their personal and professional goals. The business-side of veterinary medicine is often not heavily emphasized in the academic curriculum, and we want to ensure that every student has the chance to learn the business skills that will maximize their financial success through their medical skills. The VBMA now offers two business certificate programs: silver and gold levels. Both are nationally recognized by employers and will give students an advantage when job searching or owning private practice. These programs supply students with a vast amount of knowledge in the many facets of veterinary business management.
---
Surgery Club
The Surgery Club at MSU CVM is a student organization for those interested in the field of surgery. Our goal is to promote the education of vet students here at Mississippi State and stimulate an interest in veterinary surgery. We present lectures and provide experiences that introduce you to various surgical topics, techniques and procedures. The Surgery Club combines topics related to both large and small animal surgery and offers several wet labs that provide great hands-on experience. Planned events include an orthopedic wet lab, a suture lab, and a number of invited guest speakers. This club is a great way to foster those interested in veterinary surgery and facilitate communication and interaction between vet students and vet surgeons here at MSU CVM.
---
International Veterinary Student Association (IVSA)
The International Veterinary Student Association (IVSA) aims to connect veterinary students around the world through international exchanges and meetings. If you wish to travel abroad for a veterinary experience, IVSA is here to support you. Traveling internationally will not only enhance your knowledge and network for your future career but will also expand your cultural awareness. Through SAVMA dues, all students have access to the benefits of IVSA. The overall mission of MSU CVM IVSA is to provide contacts and funding resources for our students to successfully achieve their international experience goals. Throughout the year, various members of the MSU CVM community share their cultures and experiences abroad with us.
---
Student Chapter Disaster Animal Response Team (SCDART)
The Student Chapter-Disaster Animal Response Team (SCDART) teaches students how to handle disaster and emergency situations in relation to both animals and humans alike. Students have the opportunity to learn from local, state, and/or federal agencies in various training opportunities. Key training includes proper emergency equipment handling, first aid techniques, and appropriate actions in a disaster response. As a member, you also have access to certification events that could strengthen your future career. For example, members are able to complete the requirements to become part of the Mississippi Animal Response Team (MART). If MART is deployed, certified members may have the opportunity to aid in the disaster response.
---
American Association of Feline Practitioners (AAFP)
American Association of Feline Practitioners is a club that is all about our feline friends! Since our curriculum tends to focus more on a canine model for small animal medicine, AAFP serves to provide opportunities to learn more about the feline patient. We aim to cover a broad scope of topics, including some specific feline diseases, feline radiology, addressing common behavior issues, owning a feline-only practice, managing feral cats, and proper restraining techniques. For those interested in exotics, we also look for opportunities to learn about large cats – lions, tigers, bobcats, etc.. In previous years, we have participated in a volunteer trip to a local animal sanctuary, and there is also a possibility for a zoo trip!
Even if you do not particularly enjoy cats, about 23% of the questions on the national licensing exam (NAVLE) are feline-related, so joining AAFP could be a great opportunity to start expanding your knowledge beyond the classroom, even as a first-year student!
---
Student Chapter Association of Clinical Veterinary Pathologists
The Path Club is a club dedicated to making the field of pathology (study of disease) more enjoyable. It is also the basis of at least three major courses taken at MSU CVM. Our club offers several wet labs, and throughout the year there necropsies are conducted on as many different species as possible. If you're in it for the disease (and not afraid to get messy), then the Path Club might just be for you!
---
Bully's Bond: Highlighting Human Animal Interaction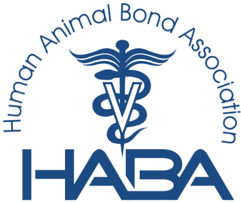 Bully's Bond is a human-animal bond organization at Mississippi State University for veterinary and veterinary technology students.  Bully's Bond recognizes the significant benefits that the human-animal bond has for both humans and animals. Our goal is to educate our peers and the community about maximizing the potentials of these relationships now and in the future.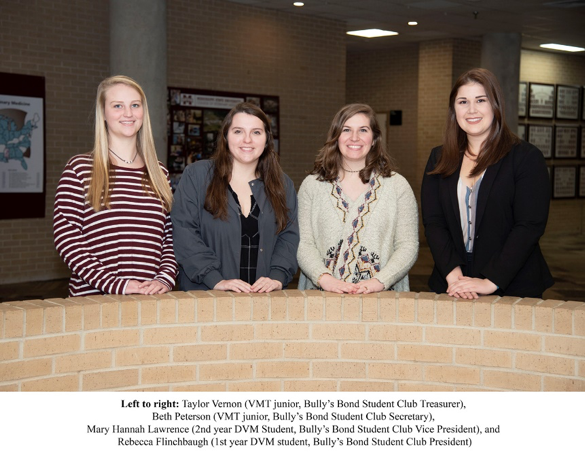 ---
Alpha Psi
Alpha Psi is a national veterinary fraternity that, for many years, has carried on traditions and values of the veterinary medical career. The MSU CVM Chapter hosts several social events to include tailgates, Spring Formal, Halloween Party, Crawfish Boil, and a few new ones that are in the works. We also host monthly happy hours at varying locations around Starkville to sit back and relax, while enjoying the company of our peers and the fine foods of the area. In addition to all the fun, we also participate in several philanthropic activities throughout the year. As a member of Alpha Psi, you will be provided the opportunity to attend Alpha Psi National Convention at one of the varying schools across the country. Our Club also provides an excellent atmosphere to build future connections and allows students to enjoy the social aspect of vet school to the fullest extent.
---
Small Ruminant, Swine, Poultry (SRSP)
The Small Ruminant, Swine, and Poultry Club is a relatively new club at MSU CVM. SRSP caters to students that want to further their veterinary knowledge and skills in the realm of food animal medicine. SRSP hosts a number of different lectures and animal-handling wet labs. Past experiences have included visits to local dairy goat farms, FAMANCHA certification wet labs, poultry industry lectures from professionals and many others. SRSP is a great way to get hands-on experience with non-traditional teaching species. Additionally, SRSP exposes student to unique fields of veterinary medicine.
---
American Association of Equine Practitioners (AAEP)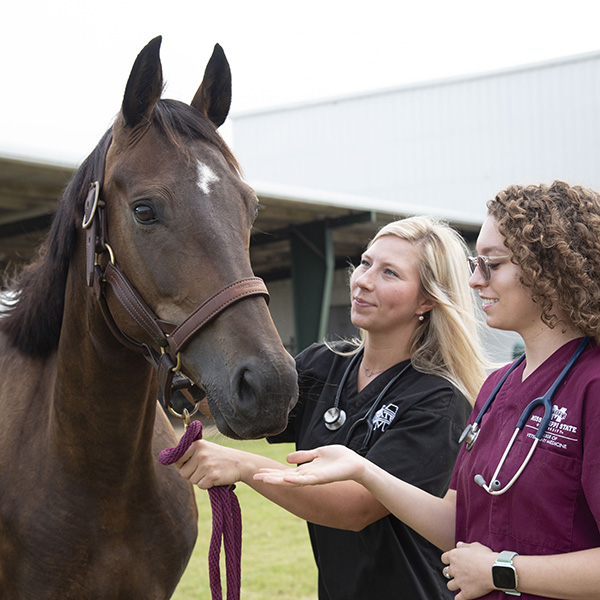 The American Association of Equine Practitioners is the largest professional organization of equine veterinarians. The Mississippi State Student Chapter of the AAEP strives to provide its members with hands-on horse experience and the most up-to-date information on equine veterinary care. Monthly meetings are held on a variety of topics including farrier work, dental care, alternative therapy, infectious diseases, diagnostic techniques, surgery and lameness. Guest speakers from around the country along with clinicians from our hospital are invited to lecture. Field trips or wet labs are also offered throughout the year to give members hands-on experience.
---
Broad Spectrum/VOICE
Veterinary medicine is the least diverse profession in existence in terms of representation by all races, genders, and sexual orientations. As a result, the profession lacks cultural competency, which decreases the quality of client relationships and undermines camaraderie with colleagues. The MSU CVM chapter of Veterinarians as One in Culture and Ethnicity helps promote inclusion by visiting area schools, hosting informational lectures, and hosting fun social events. All veterinary students, faculty and staff, and undergrad students are welcome to join! We offer programs relevant to a broad variety of topics, including but not limited to LGTBQ+ issues, socioeconomic barriers to pursuing a veterinary education, and accessibility of the profession to all students. And of course, we are open to suggestions on issues in our profession that you may wish to talk about!
---
American Society of Laboratory Animal Practitioners (ASLAP)
The American Society of Laboratory Animal Practitioners (ASLAP) is the only organization that directly represents laboratory animal practitioners within the AVMA. The purpose of the student chapter of the American Society of Laboratory Animal Practitioners is to foster educational activities in the veterinary specialty of laboratory animal medicine and to familiarize the members with standards and regulations pertaining to this discipline. The MSU CVM ASLAP Chapter hosts events directed at educating members on ethical issues and concerns in using research animals and exposing them to different aspects of the career of a laboratory animal veterinarian. The Club brings speakers from the field and organizes trips to various research facilities. Club members are encouraged, but not required, to join the national ASLAP society as well.
---
American College of Veterinary Internal Medicine (ACVIM)
The main mission of the MSU ACVIM Chapter is to disseminate information about the function of the American College of Veterinary Internal Medicine (ACVIM) and its various specialties to its student affiliates. In doing this, the Chapter encourages student affiliates to pursue activities related to cardiology, neurology, oncology, large animal internal medicine, and small animal internal medicine such that students are able to gain exposure and experience in this area outside of the classroom and facilitate their own understanding of the discipline. The ACVIM also encourages pursuit of advanced training (internships or residencies) in the various specialties of American College of Veterinary Internal Medicine (ACVIM) by the Chapter student affiliates.
---
American Association of Veterinary Parasitologists (AAVP)
Parasites can be found in nearly all areas of veterinary medicine. Though many are small in size, their impact on our patients is quite large! So, we have a club dedicated to learning more about these fascinating creatures. The American Association of Veterinary Parasitologists (AAVP) was founded in 1956 and is a scientific and educational organization. Members of AAVP are interested in parasites of companion, food-producing, domesticated animals, and wildlife; some of which are transmissible to humans. We study these parasites to ultimately find new or better ways to diagnose, prevent, treat, or reduce infections in animals and in humans. One of the ways in which AAVP facilitates this is by holding NAVLE and first year pre-exam parasite reviews. Additionally, members can expect interesting research and case presentations from leading parasitologists, and activities such as parasite recovery labs, diagnostic labs, and collaborations with other CVM clubs.