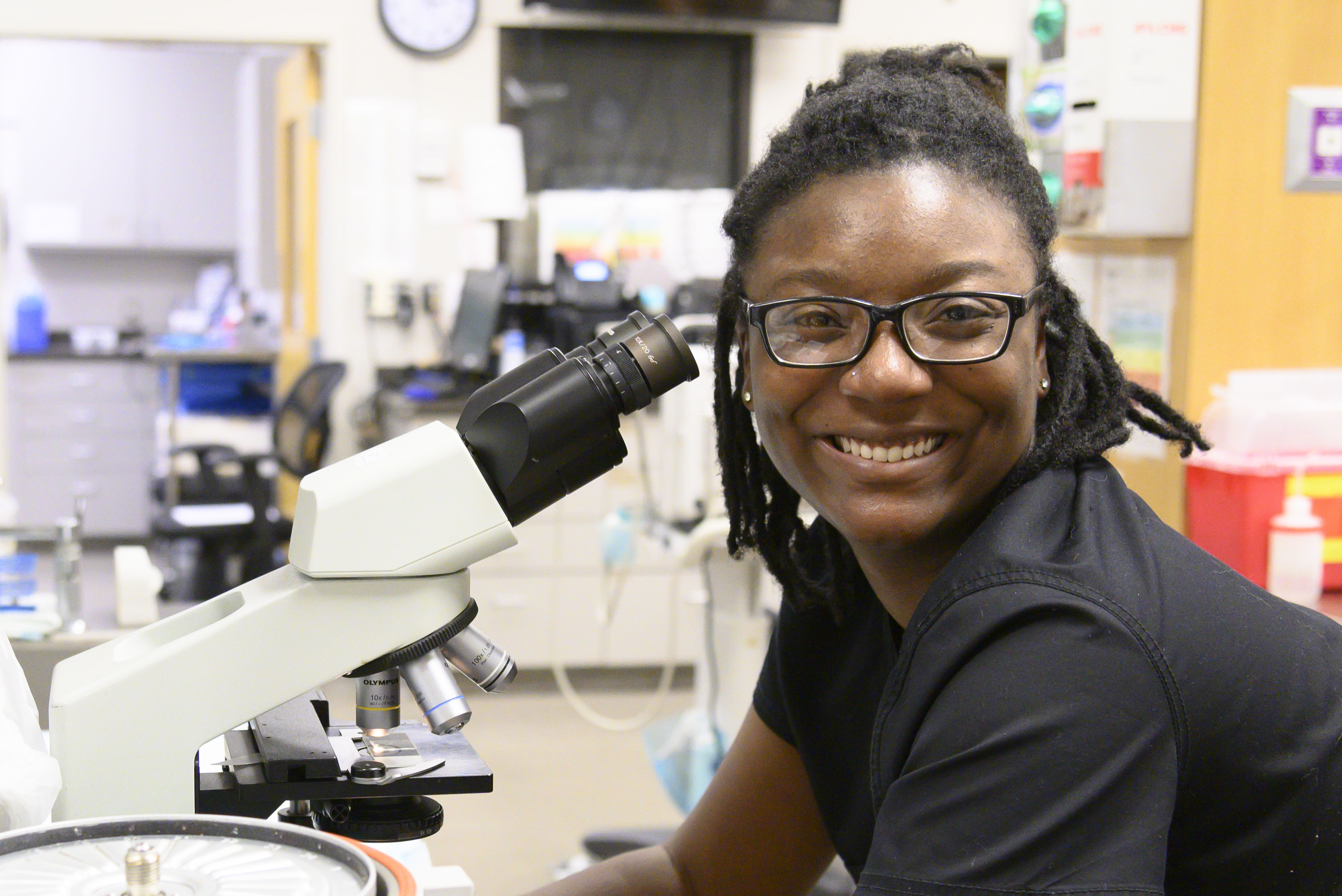 The Mississippi State University College of Veterinary Medicine is a leader in graduating well-rounded general practitioners, who are practice-ready upon graduation. As a result of this, our graduates are highly sought after and are offered opportunities to work all over the world in a variety of different capacities.
We take great pride in what we do and are committed to earning respect by exceeding expectations. The following are just a few of MSU CVM's many Points of Pride:
24 Months of Clinical Training with No "Tracking"
MSU CVM is one of only several US colleges of veterinary medicine that—like most colleges of human medicine— requires two full years of mentored clinical education. All coursework in the first two years are core requirements for all students. MSU students receive core instruction in all major domestic species and do not "track." Our curriculum provides graduates with a strong, multi-species foundation and allows opportunity to focus on species or discipline interests.
---
26 Weeks of Elective Opportunities and Up to Six Externships Available
The fourth year of study provides time (26 weeks) for MSU CVM students to select areas, with the approval of their advisors, to concentrate by taking elective coursework and externships in private practices, other universities, institutions and industry. Students are allowed to participate in up to 12 weeks of externships, spending a minimum of two weeks and a maximum of six weeks at one location.  These experiences (a maximum of six) are selected by students and approved by their faculty advisors. Students often select these externships to expand upon an area of veterinary medicine that they are primarily interested in or to encounter types of cases or species that may not be routinely seen at MSU CVM.  This arrangement allows students to have quite a bit of input into how and where they will spend much of their time last year, while allowing them to focus in an area of specific interest or as broad as they desire.
---
Enhanced Clinical Practicum Program
MSU CVM has successfully partnered with veterinary practices in 7 states who have committed to serving as external teaching sites for our Enhanced Clinical Practicum (ECP) program. Since the program began in 2020, more than 8 students have completed an ECP under the pilot program.
---
High Match Rates for Internships and Residencies
A large majority of MSU CVM graduates enter private practice immediately following graduation. However, for those that do seek additional clinical training because they want to specialize, our graduates are very successful. MSU CVM is one of only seven North American colleges of veterinary medicine that has averaged a greater than 70% successful matching rate for internships/residencies over the past eight years.
---
Clinical Training in Six Locations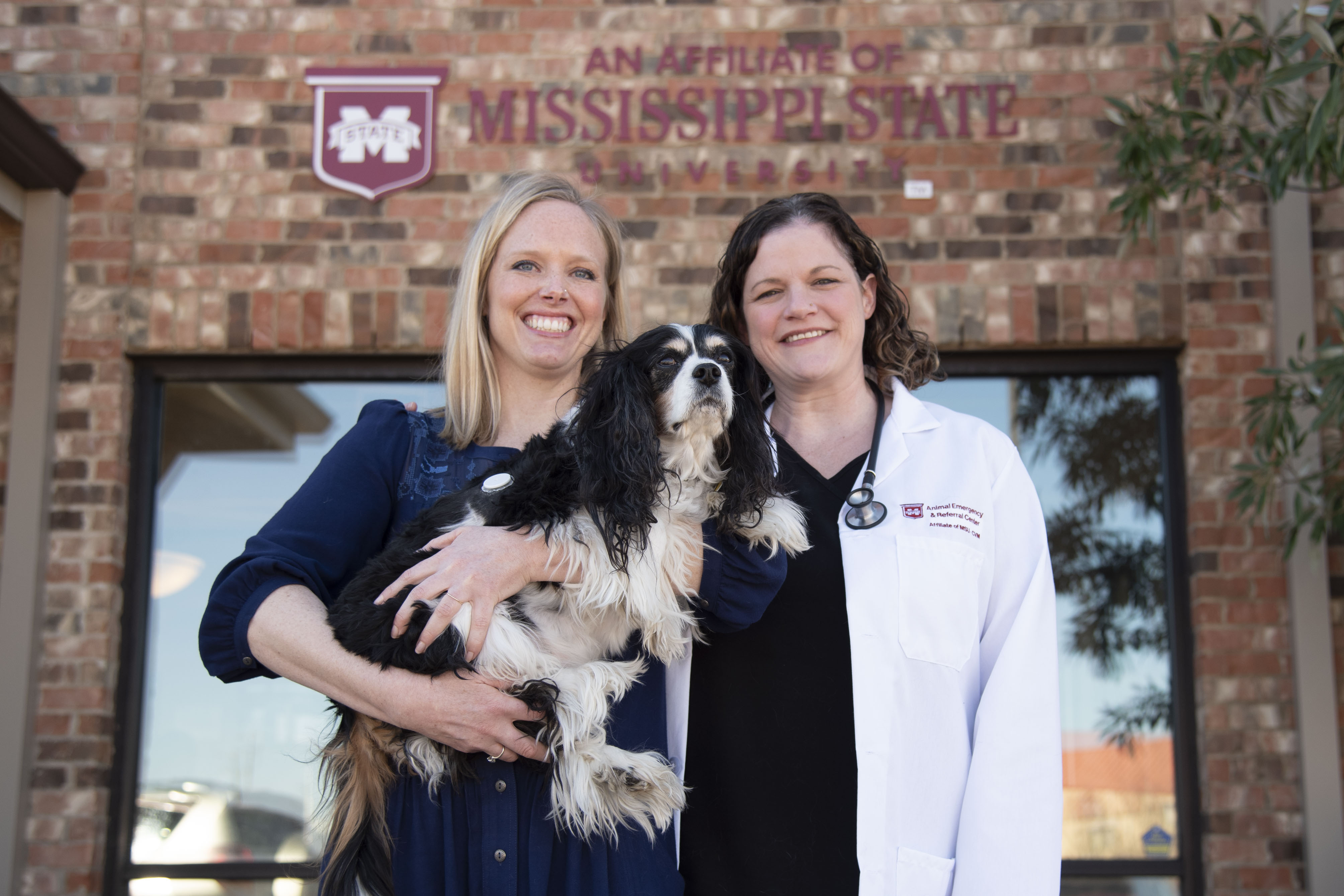 MSU CVM has six locations where our students can gain ever-so-valuable, hands-on experience. The MSU CVM Animal Health Center (AHC) and corresponding CVM Diagnostic Laboratory are housed in the Wise Center on our main campus, and the AHC is where our students gain the bulk of their clinical experience in years three and four. Two of our off-campus clinical teaching facilities are required fourth-year rotations: the Animal Emergency and Referral Center (two-week rotation with emergency medicine, surgery, internal medicine, ophthalmology, dentistry, behavior and dermatology) located in the Jackson, MS suburb of Flowood and the Veterinary Specialty Center (two-week rotation with neurology, ophthalmology and radiation oncology) located across town in west Starkville. At VSC we share a 3 tesla MRI, 64-slice CT, and linear accelerator with physicians. Other MSU CVM locations include the Aquatic Research and Diagnostic Laboratory in Stoneville, the Mississippi Veterinary Diagnostic Lab and Poultry Diagnostic Lab in Pearl, and the Institute for Marine Mammal Studies in Gulfport.
---
Training in Marine Animal Medicine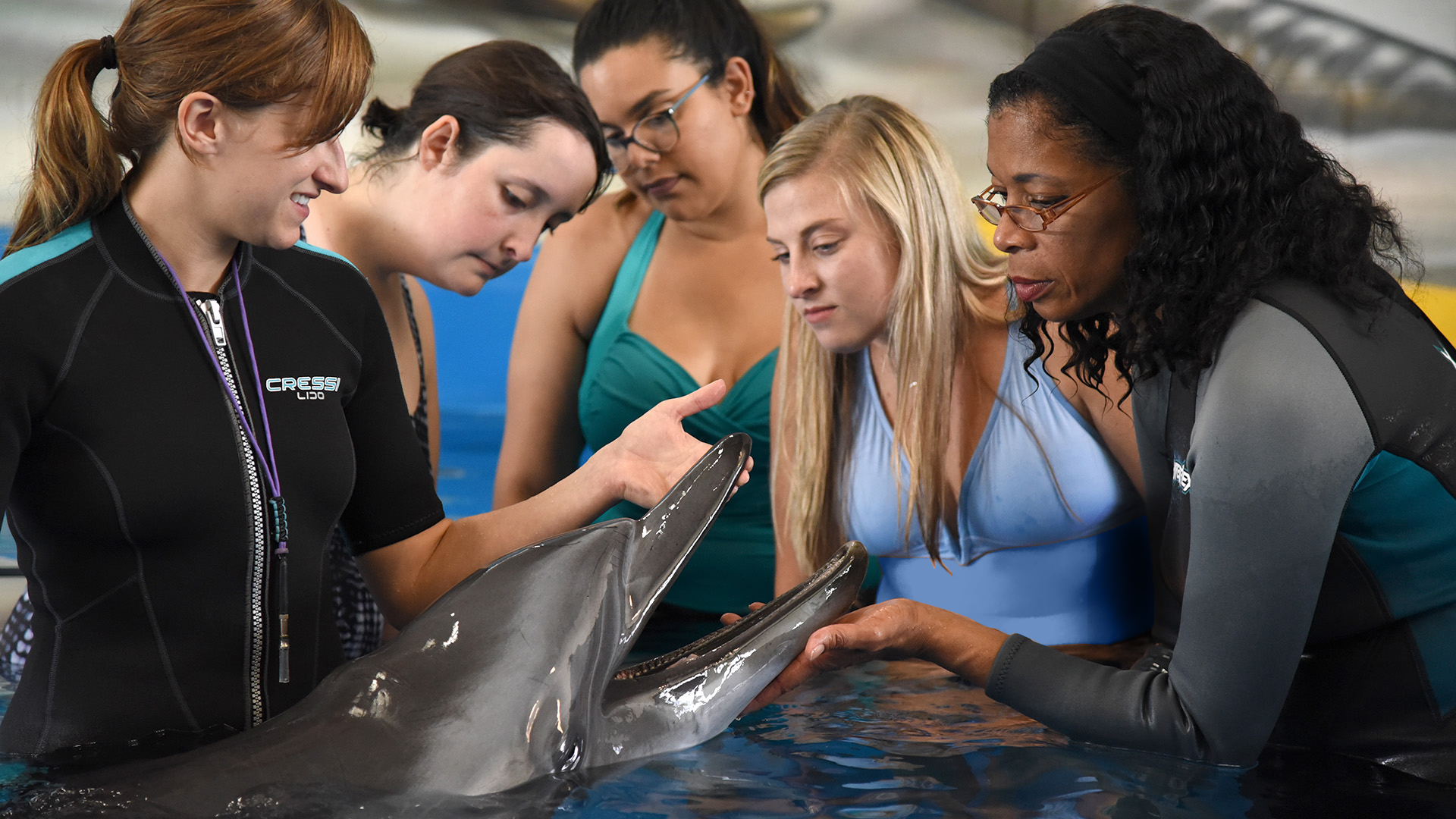 A grant funded by the National Fish and Wildlife Foundation and administered through the Mississippi Department of Environmental Quality makes a partnership between MSU CVM and the Institute for Marine Mammal Studies (IMMS) in Gulfport, MS, possible and enables our College to be one of only two U.S. colleges of veterinary medicine able to offer all students marine animal medicine training. MSU CVM veterinarians who specialize in marine animal medicine, radiology, ophthalmology, anesthesiology, internal medicine and pathology and IMMS are working together to rescue and rehabilitate stranded or injured endangered Kemp's ridley sea turtles and dolphins from naturally occurring morbidity and mortality events, which provides our students with hands-on, clinical experience with these amazing animals.
---
USAID Feed the Future Fish Innovation Lab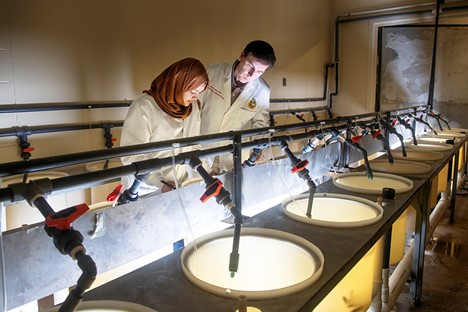 The United States Agency of International Development (USAID) selected MSU CVM to lead the $15,000,000 Fish Innovation Lab. MSU CVM leads in supporting and conducting applied research to develop human food resources in selected countries in West Africa, East Africa, and South Asia. Of 21 laboratories across a variety of food and food commodities production systems, MSU CVM is the only college of veterinary medicine leading a program.
---
Vet Med Research Scholars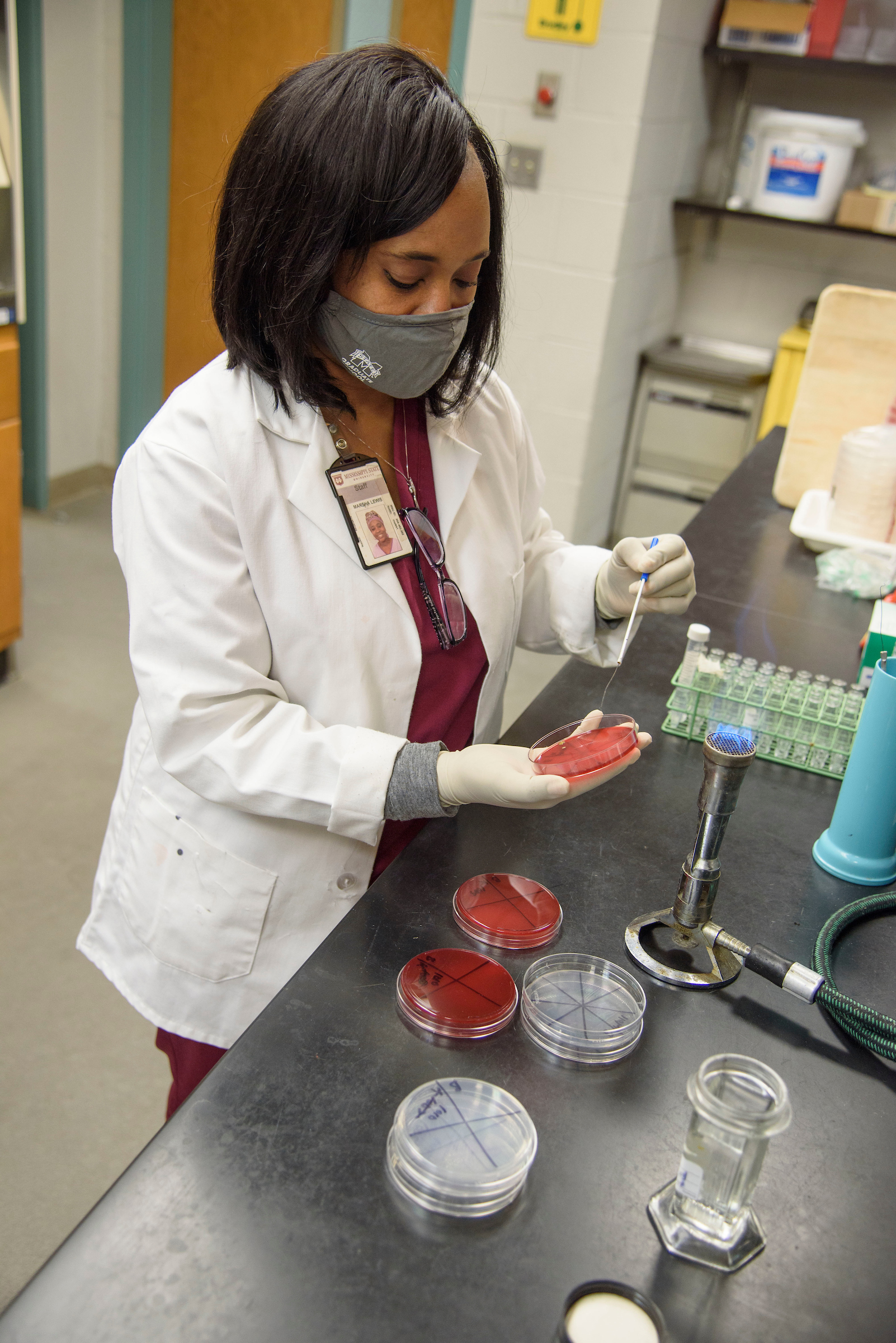 MSU CVM offers one of only 16 National Institutes of Health (NIH)-funded summer research experience programs. Known as VetMed Research Scholars, this 12-week program provides students with training in biomedical research and teaches them skills that will help them develop into leaders in the veterinary profession.
---
50+ Spay/Neuter Surgeries Before Graduation
MSU CVM has a nationally recognized shelter medicine program. The College works with more than 25 shelters in north Mississippi providing spay and neuter services and rendering advice on population medicine. This enables our students, under faculty supervision, to perform 7,000-8,000 surgeries each year, which benefits the dogs and cats making them more adoptable and provides unparalleled surgery experience for our students. The typical MSU CVM student will have spayed or neutered nearly 60 dogs and cats by the time of graduation.
Learn more about Surgical Training
---
Outstanding NAVLE Rates, Employment Rate and Starting Salaries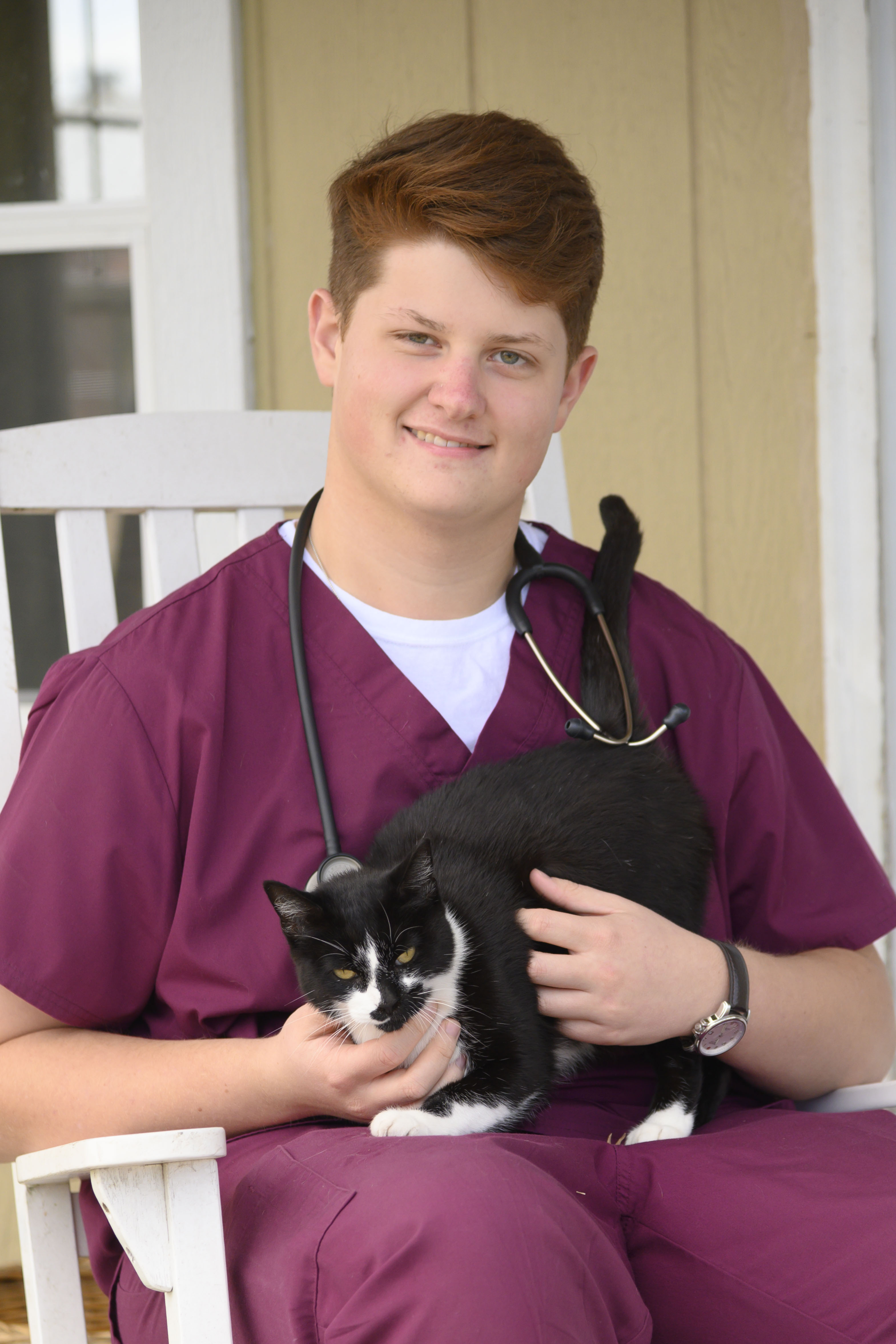 For the past five years, MSU CVM has had (at the time of graduation) a national board examination (NAVLE) passage rate of 98% compared to a 95% national average. Our students' average NAVLE score over the past 5 years is 525 compared to the national average of 510 (passing score is 425). In addition, our 2022 graduates also scored above the national average in each of the 27 individual categories reported from the NAVLE. At the time of graduation, every member of the class of 2022 reported either being employed or accepted to programs to further their education, and for those hired to enter companion animal predominant practice, the mean starting salary was $107,511 compared to the national average of $90,385.