QUICK LINKS ABOVE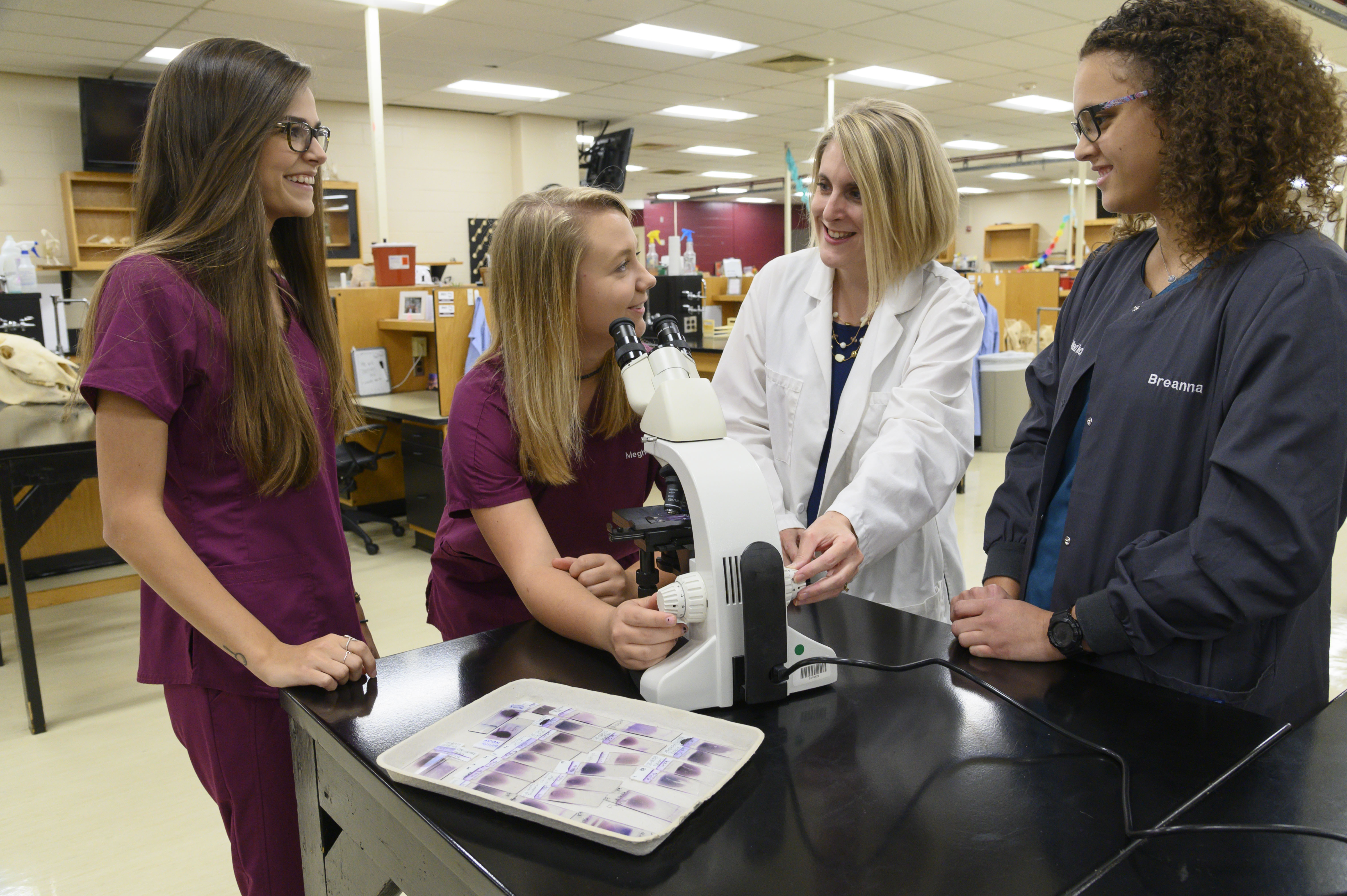 The Mississippi State University College of Veterinary Medicine (MSU CVM) was the third college of veterinary medicine in the United States to offer a four-year bachelor's degree program in veterinary medical technology (VMT). Nationwide, there are only 22 four-year VMT programs.
The MSU CVM VMT Program prepares students to work in the following areas of veterinary medicine:
Private practices (small animal and mixed)
Equine specific practices
Food animal/production medicine
Public health organizations
Federal and state regulatory agencies
Pharmaceutical companies
Animal-nutrition companies
Animal-related industries
Laboratory animal medicine
Animal and biomedical research
Zoo and wildlife
Education
In addition, our students are exposed to a number of specialty areas including, internal medicine, anesthesia, surgical nursing, behavior, and emergency and critical care, and they may even choose to complete actual clinical rotations in some of them. Veterinary technology students can pursue a variety of different specialties after graduation.  For a complete list, visit www.navta.net.
---
WHY MSU CVM?
MSU CVM is one of only a few colleges where the veterinary medical technology program is housed within the College of Veterinary Medicine. Our VMT students train alongside DVM candidates in the same clinical setting. VMT students enjoy the opportunity to participate in clinical experiences their entire senior year.
At MSU CVM, we pride ourselves in offering a collaborative learning environment. Our top-notch faculty are not only committed to providing an excellent education, but also genuinely care about their students. We offer a family-like atmosphere where students receive the training and support they need to reach their goals and succeed in the field of veterinary medicine.
MSU CVM also offers a variety of animal-related clubs and organizations, where students can build relationships with their peers outside of the classroom, further their experience working with animals, and make a difference in the world around them.
Our rigorous classroom and clinical curriculum and supportive, family-like environment enables us to graduate well-rounded students who are well prepared to enter the workforce!
---
VMT Academic Insight
Saturday, February 25th, 2023
Registration opens Tuesday, January 10, 2023. For more information about Academic Insight, please click here. 
2023 Itinerary coming soon! Please see below for last year's itinerary. 
1:00–⁠1:15 PM - Check-In
1:15–⁠2:15 PM - Meet the faculty and staff and learn about the program
2:15 - 4:00 PM - Tours and Exhibits
2:15 - 4:00 PM - Parent Q&A
Videos
Large Animal VMT Video
Blood Smear Demonstration
---
GOALS OF THE PROGRAM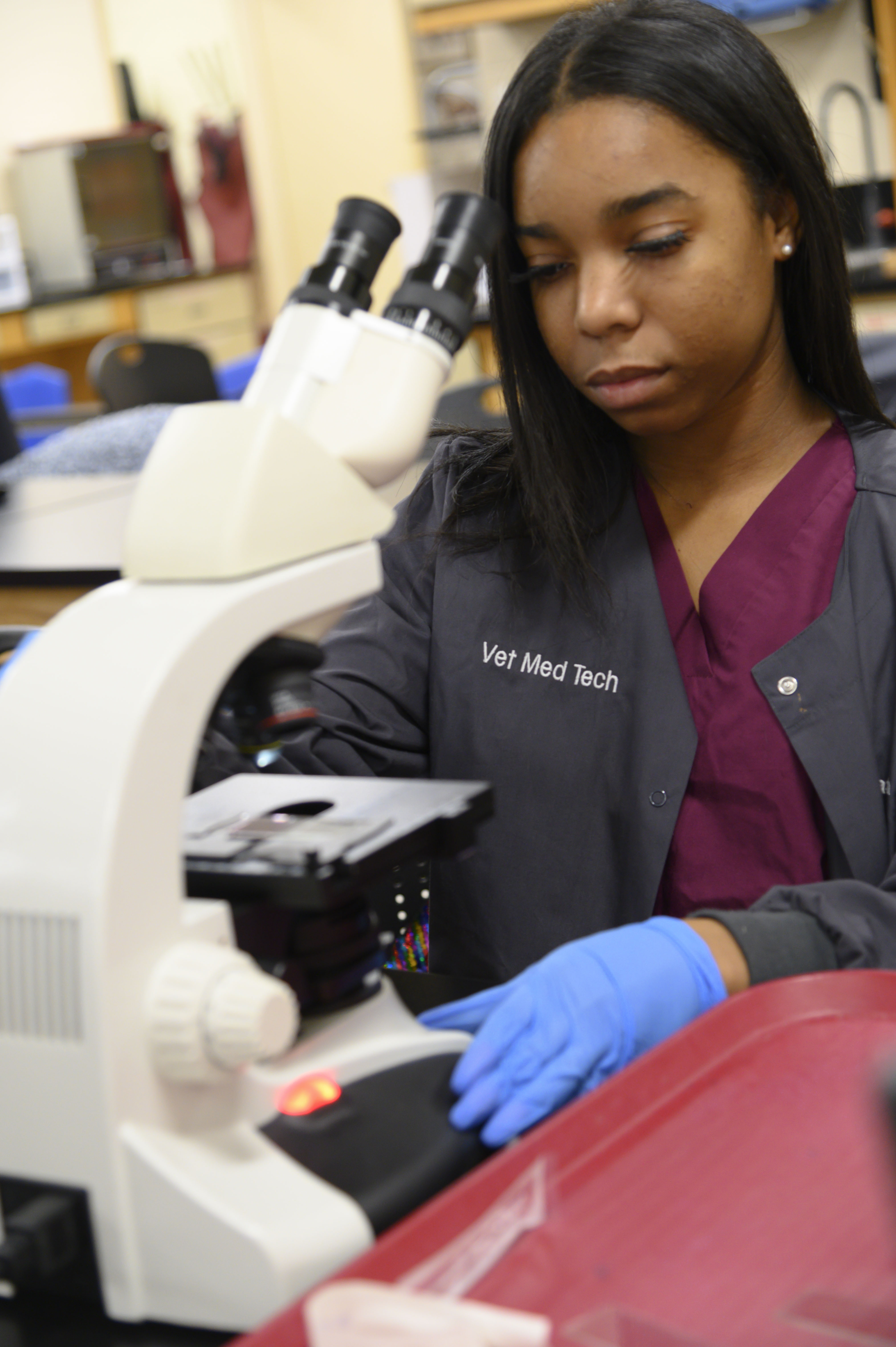 The goals of the MSU CVM VMT Program are to provide students
Relative, practical and quality delivered curriculum
Hands-on educational experience to ensure the development of technical skills required upon graduation
Collaborative learning environment to enhance understanding of individual team members' responsibilities and the dynamics within the veterinary healthcare team
Foundational knowledge base for lifelong learning
Technical knowledge that meets the educational standards of the Committee on Veterinary Technololgy Education & Activities (CVTEA)
Degree that can be used to satisfy the American Association of Veterinary State Boards (AAVSB) requirements for national credentialing as a veterinary technician
The Mississippi State University College of Veterinary Medicine VMT program is fully accredited by the American Veterinary Medical Association on Veterinary Technician Education and Activities.
---
MSU CVM VMT PROGRAM
ENTRANCE REQUIREMENTS
Preadmission
High school seniors with at least 3.0 GPA
First-semester college freshmen with overall GPA of 2.8 or greater
21 ACT
Completed applications to the program
Interview
Regular Admission
2.5 overall GPA
Completed applications to the program
Interview
Prerequisites
English Comp I & II
College Algebra
Trigonometry or Intro to Statistics
Survey of Chemistry I & II
Experimental Chemistry (lab)
Social Behaviors (6 hours)
Humanities (6 hours)
Biology I & II
Microbiology
Fine Arts
Speech
Animal Science or Animal Anatomy & Physiology
Careers in Veterinary Medicine
Veterinary Medical Technology Terminology
Important to note:
All prerequisites must be completed with a C or better.
The VMT bachelor of science degree program does not meet the requirements for direct entry into veterinary school. Students interested in this avenue will need to take physics, biochemistry and organic chemistry in addition to the required VMT curriculum.
---
APPLYING TO THE PROGRAM
Applications for 2024-2025 are currently closed. Regular Admissions will open 2/1/2024 and Pre-Admission will open 10/1/2024.
If you have questions regarding applications, contact the VMT office at (662) 325-1103 or email msuvmt@cvm.msstate.edu.
---
VETERINARY TECHNOLOGIST DUTIES & RESPONSIBILITIES
Veterinary technologists perform technical duties as well as managerial tasks, including:
Patient care & nursing
Patient assessment
Case management
Surgical & anesthetic nursing
Client education & communication
Supervising and/or practice management
---
JOB OUTLOOK
According to the Bureau of Labor Statistics, there will be a 20 percent increase in the need for technicians and technologists between 2016 and 2026, which is much faster than average.
The average salary for credentialed veterinary technicians is, according to the National Association of Veterinary Technicians in America, $36,000. For technicians in regulatory or research areas, the average salary is $50,000.
---
MSU CVM VMT Program Faculty and Staff:
Maralyn Jackson, DVM
Assistant Clinical Professor and Director
662-325-7487
mjackson@cvm.msstate.edu
Amanda (Mandy) Kohler, DVM
Assistant Clinical Professor and Coordinator for Advising and Recruitment
662-325-2356
akohler@cvm.msstate.edu
Dana Cooper, CVT, VTES
Instructional Technician/Clinical Coordinator
662-325-1388
dcooper@cvm.msstate.edu
Sarah Poole, CVT, LVMT
Instructional Technician
662-325-2283
skp206@msstate.edu
Gail Bishop
Administrative Assistant
662-325-1103
bishop@cvm.msstate.edu
Credentialing Process:
VTNE Pass Rate
| | |
| --- | --- |
| The three-year pass percentage on VTNE is calculated as follows: X/Y*100= three-year pass percentage whereby X is the number of first time candidates that passed the VTNE and Y is the number of first-time candidates that have taken the VTNE | July 1,2020-June 30, 2023 |
| Number of 1st time candidates that have taken the VTNE | 91 |
| Three Year VTNE pass percentage | 73% |
---
GRADING RUBRICS
Department of Veterinary Medical Technology
PO Box 6100
Mississippi State, MS 39762
Phone: 662.325.1103
Fax: 662.325.7506
Email: msuvmt@cvm.msstate.edu