The MSU CVM Department of Clinical Sciences is dedicated to clinical and academic excellence and focuses on the issues affecting companion animals.
Faculty members have specialty training and represent the following disciplines: anesthesiology, clinical pharmacology, dentistry, dermatology, neurology, oncology, ophthalmology, primary care, radiology, shelter medicine/epidemiology, small animal surgery, and small animal internal medicine.  Our faculty members teach veterinary students these disciplines throughout the curriculum. Veterinarians in our department hold appointments in the MSU CVM Animal Health Center (AHC) where they provide clinical services to animal owners and referring veterinarians. The College's third- and fourth-year veterinary students spend much of their time in the AHC, working alongside clinicians, interns and residents, refining the clinical training they started in the second year of the professional program.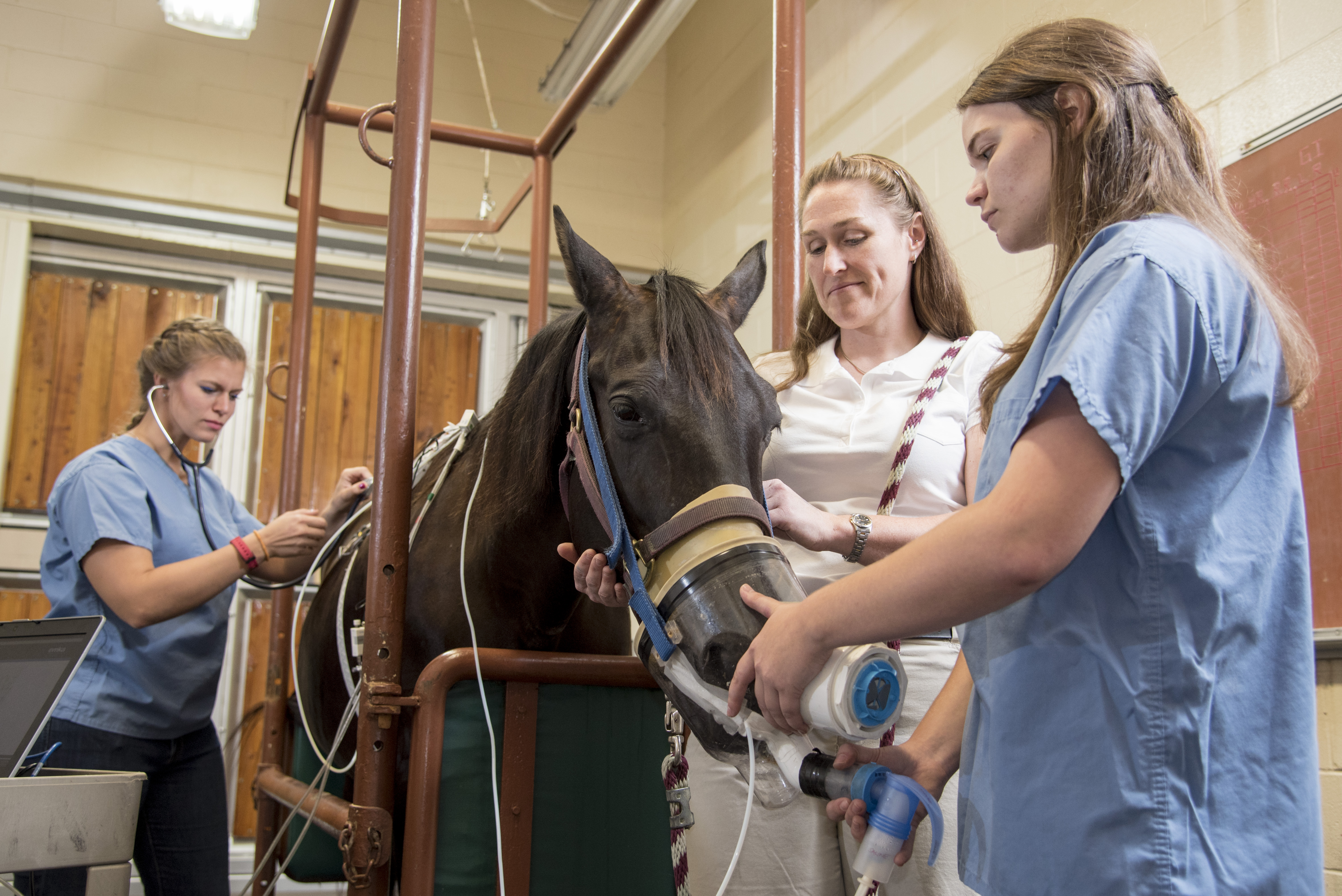 Research in the department reflects the various disciplines represented and concentrates on problems relevant to the causes, diagnosis and treatment of problems affecting companion animals. The department offers residencies in anesthesia, neurology, primary care (ABVP), radiology, small animal medicine, and small animal surgery, as well as a number of specialty internships. We also offer MS and PhD degrees with a variety of emphases.
Meet Our Department of Clinical Sciences Faculty
Contact Information & Faculty
If you would like additional information about our programs or services, please contact us.
Dr. Andrew Mackin
Head, Department of Clinical Sciences
Phone: 662-325-6631
Fax: 662-325-4011
mackin@cvm.msstate.edu
Ashley Williams
Administrative Assistant, Department of Clinical Sciences
Phone: 662-325-1266
Fax: 662-325-4011
aw3069@msstate.edu
Clinical Sciences Faculty & MSU CVM Clinic Team Members
Faculty
Archer, Todd
Beasley, Michaela
Betbeze, Caroline
Brookshire, Cooper
Bryan, Christine
Burt, Joey
Byrd, Wendy
Castaldo, Sarah
Chavez, Kristie
Eubanks, Diana
Grace, Sharon
Gowan, Michael
Grady, Jesse
Gunter, Juli 
Hinz, Simone
Ivey, Clay
Jaffe, Michael
Jaffe, Tracy
Langston, Cory
Lathan, Patty
Lee, Alison
Linford, Robert
Mackin, Andrew
Marquardt, Taya
McBride, Thomas
McLaughlin, Ronald
Meyer, Robert
Moore-Henderson, Brittany
Natalini, Claudio C.
Seitz, Marc
Shealy, Alex
Shivley, Jacob
Shores, Andy
Sills, Kirby
Sullivant, Alyssa
Swanson, Elizabeth
Telle, Becky
Thomason, John
Watkins, Rebecca
Winstead, Joshlyn
Woodruff, Kimberly
Residents/Graduate Students
Bennett, Blair
Danel, Alexandra
Du, John
Ellrich, Patricia
Margarucci, Douglas
Marroquin, Shanna
Marquez, Alma
Minaldi, Michael
Neal, Katherine
Owen, Christine
Seitz, Marc
Stevenson, William
Teng, Emily
Tollefson, Chris
Torres, Roman
Whitney, Melody
Adjunct Professors
Barringer-Eaves, Christine
Bethany, Jessie
Costa, Lais
Frondoza, Carmelita
Fulton, Linda
Grady, Andrew
Hidalgo, Patricia
Jones, Tracie
Kelly, Joseph
Krecic, Matt R.
Lodato, Dena
Lanz, Otto
Maran, Brian
McRorie, Johnson 
Miller, William
Norsworthy, Gary
Pasquali, Marzia 
Phillips, Darrell
Poole, Melinda
Syrcle, Jason
Vice, J. Donnie
Wardlaw, Jennifer
Emeritus Professors
Boring, J. Gregg
Bushby, Philip
Cooper, Robert
Harkness, John
Jennings, Dave
Tyner, Lee