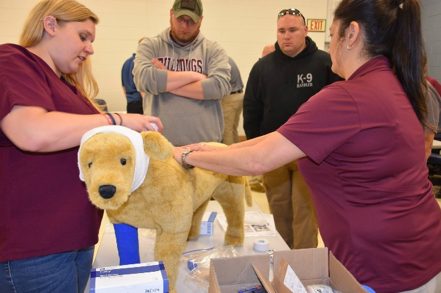 MSU CVM partners with the Mississippi Board of Animal Health (MBAH), Mississippi Fire Academy (MSFA) and University of Mississippi Medical Center (UMMC) to offer free medical training for law enforcement personnel who handle K9 officers and for medics who may treat K9 officers in the field. These courses help ensure that our first responders and their K9 counterparts are trained and protected.
The objective of the one-day law enforcement course is to train officers to provide basic care and first aid to their canine partners, as well as to perform life-saving techniques until more advanced veterinary care can be accessed. Topics addressed include basic health care of law enforcement canines; triage, handling and medical evacuation of injured canines; first-aid and emergency care; treatment of traumatic injuries and emergency conditions; intoxications, and emergency planning and jump kits.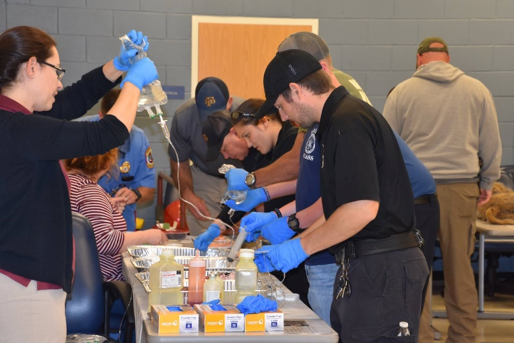 The medic course requires a second day of training due to additional topics covered such as CPR, fluid administration, IV catherization and tracheostomy. MSU CVM faculty and staff members developed this course with consideration of equipment and medications normally carried on an ambulance or accompanying a tactical medic team.
Both the law enforcement course and the medic course offer a combination of lectures and hands-on instruction.
For additional information about either course, contact MSU CVM Professor of Pathobiology and Population Medicine/MSU Extension Veterinarian Carla Huston at (662) 325-1183 or huston@cvm.msstate.edu.