About our Staff
The Animal Health Center (AHC) is a veterinary medical teaching hospital. When your pet is admitted to the AHC, it will be under the care of a full team of veterinary medical professionals. This team may include not only board-certified veterinarians and certified veterinary technicians, but also graduate veterinarians and other healthcare professionals. Our goal is to provide your pet with the highest quality medical and surgical care.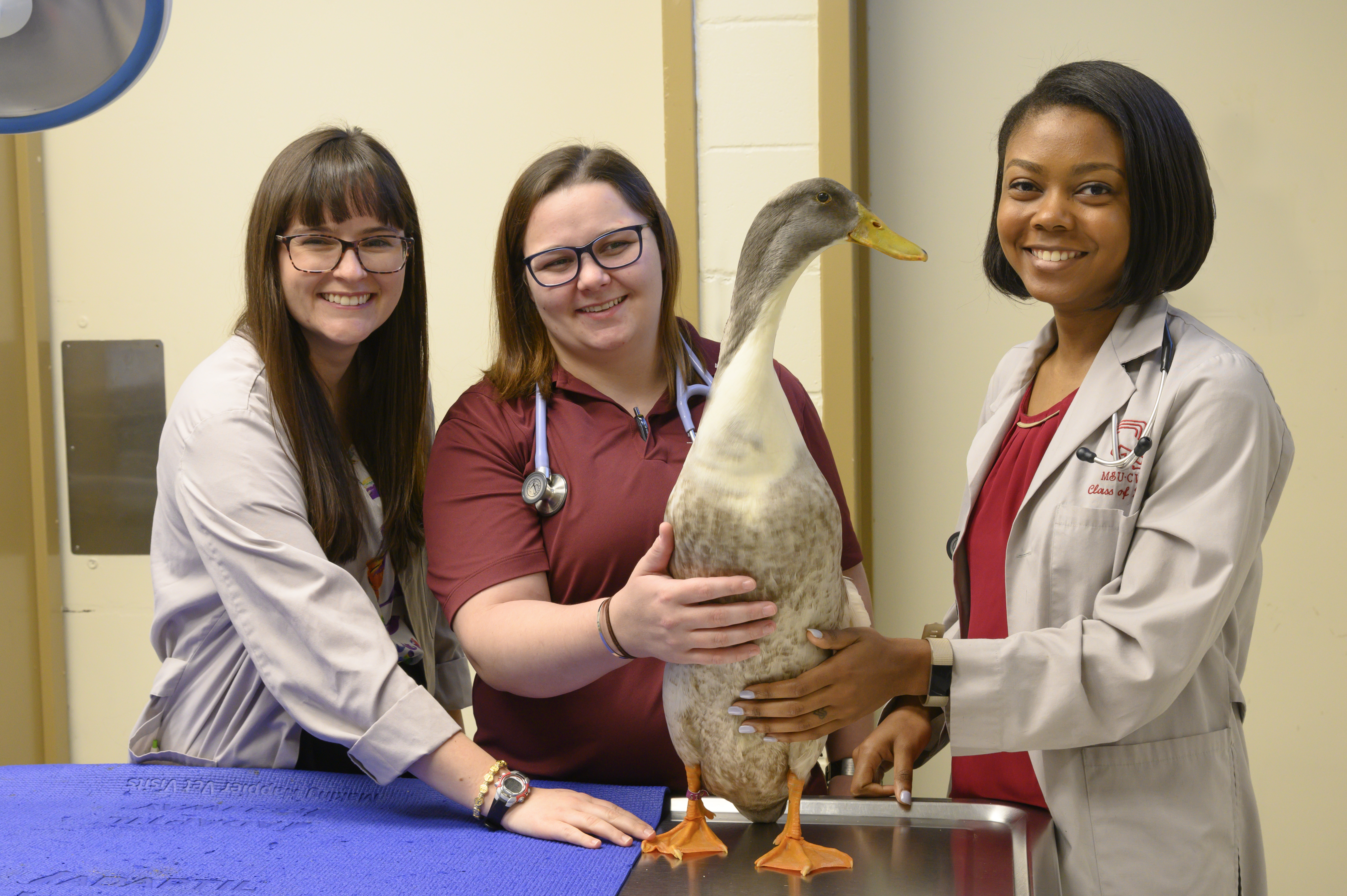 At any given time, an entire team of clinicians and students may be working with your pet. Based on training and function within the hospital care team, caregivers may be referred to as:
Attending Veterinarian
A veterinarian who is an MSU CVM faculty member and leads the healthcare team that consists of residents, interns and veterinary medical students. He or she is ultimately responsible for your pet's plan of care.
Resident and/or Clinical Instructor
Veterinarians who have received their veterinary medical degree, have significant experience or training after graduation, and have elected to pursue advanced training.
Intern
Veterinarians who have received their veterinary medical degree and are now pursuing the first step towards receiving advanced training.
Veterinary Medical Students
Third and fourth year students who may be involved in your pet's care as part of their preparation to become veterinarians but will only work under the supervision of the attending veterinarian.
It is not unusual for your hospital care team to rotate and for several doctors to be treating your pet. One of the great benefits of a teaching hospital like ours is that your pet will receive extra attention, both clinically and personally! As new caregivers join the team, they will introduce themselves. Although the veterinarians may rotate, the quality of your care will not diminish because the entire hospital care team is tightly coordinated to provide you with the best possible care!
---
Client Paperwork/Forms & Payment Info
AHC Client/Patient Info Forms:
Small Animal Patient Info Form Food Animal Patient Info Form
Equine Patient Info Form Therio Patient Info Form
The Animal Health Center accepts many payment types, including cash, check, credit card\debit payments as well as the payment options we offer through CareCredit. Payment is due at the time services are rendered. We do not accept payments directly from insurance companies, however, we are glad to provide the information needed for your claims.
Once a course of treatment has been decided upon for your pet, a monetary deposit will be collected. Upon discharge, your remaining balance will be collected, and you will receive instructions for proper home care for your pet. At this same time, your regular veterinarian will be sent a copy of your pet's case summary and recommendations for care.
If you have questions about the patient intake form or need clarification about our payment policies, just give us a call at (662) 325-1351 or (662) 325-1181, respectively, and we will be glad to assist you!
---
Appointments
No appointment is needed for emergencies; however, an appointment is required for all other visits. Please call (662) 325-1351 to schedule an appointment in the small animal clinic or (662) 325-1400 to schedule an appointment with the large animal clinic. The appointment desk is open 8am – 5pm Monday through Friday. It is closed on weekends and holidays. If you have specific questions regarding your referral, please call the referral coordinator at (662) 325-7016.
For after-hours referral emergencies, call (662) 325-3432.
---
What to Expect When You Arrive
The process — we are here every step of the way.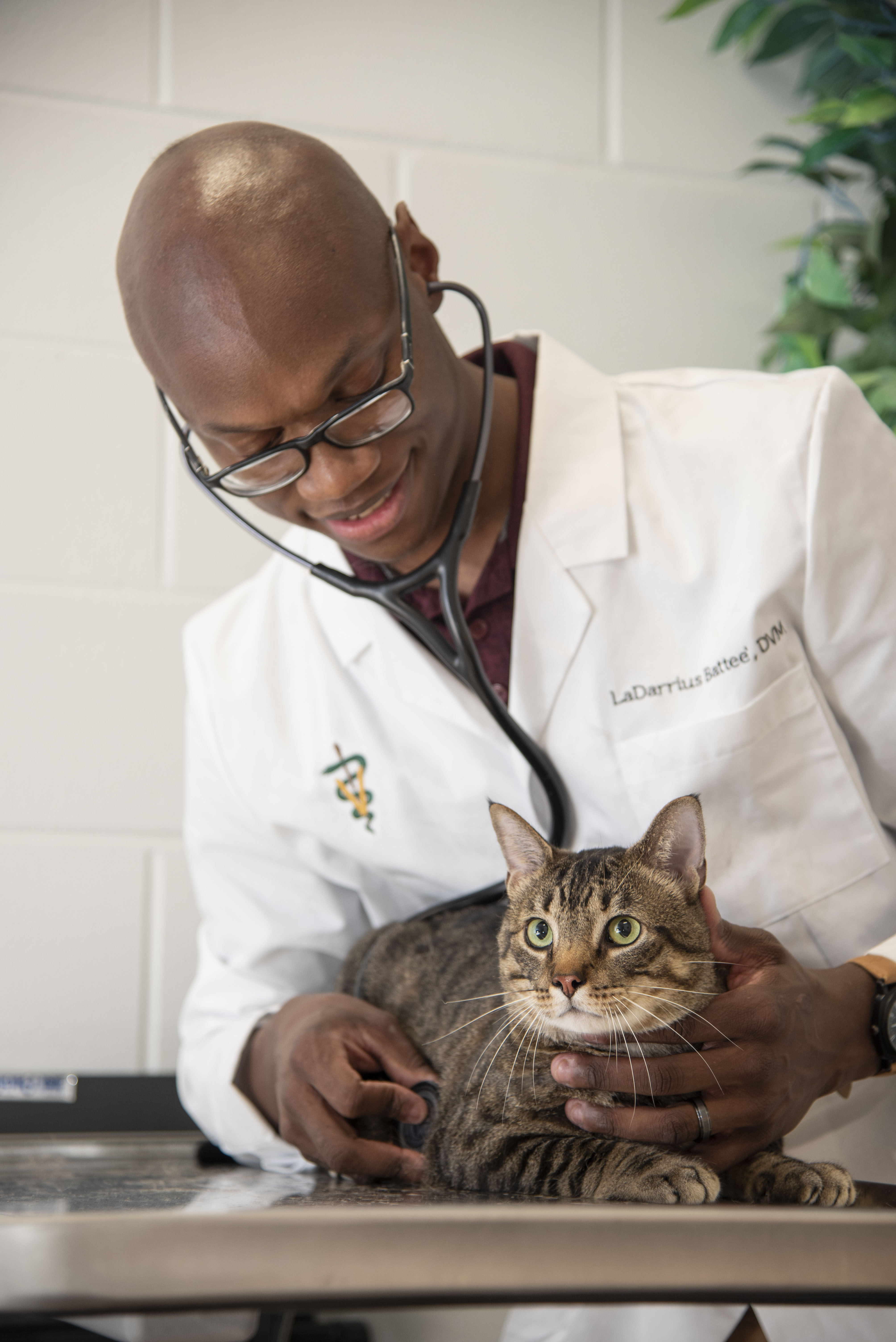 When you arrive at the AHC, you will be asked to complete some forms. If your referring veterinarian has not already sent the medical records and radiographs, the admissions staff will contact him or her to obtain them. Once the information is entered and the pertinent paperwork printed, a veterinary student will typically escort you into a private waiting and exam area.
Be advised that to protect our patients from infectious disease, all animals admitted to our hospital should be current in their vaccination schedules. For boarding, if vaccinations are overdue, boosters will be given. For equine patients, a negative Coggins certificate is required.
The student will obtain a thorough history of your pet's medical condition and conduct a physical exam. Please feel free to ask any questions along the way. You will also meet your clinician(s), who will likely do a brief exam and have additional questions for you.
After completing the history and physical exams, the medical team will discuss a diagnostic and/or treatment plan for your pet. Before the next steps are taken, they will discuss the plan in detail with you and provide a written estimate of charges to determine the course of action that is right for you and your pet.
After a course of action is decided, a monetary deposit will be collected. When diagnostic tests are needed for your pet, you are welcome to remain in our lobby. Our admissions staff will be happy to assist you by providing dining suggestions and ideas for activities to help pass the time. The student assigned to your pet will contact you via your preferred method at an agreed upon timeframe (likely early evening due to the clinic schedule) to let you know the progress made with your pet. Sometimes treatments and testing will necessitate an overnight stay or additional day(s) in the hospital. Depending on the situation, your pet may be able to leave the hospital with you and return the next day. We are happy to help with hotel accommodation, including those that are pet-friendly when needed.
Upon discharge, your remaining balance will be collected, and you will receive instructions to ensure the correct home care plan is followed. At the same time, your pet's case summary and recommendations will be sent to your regular veterinarian. We are more than glad to answer your questions or to discuss any concerns you have before you leave. We know open lines of communication are vital to your pet's good health.
---
Info for Referring Veterinarians
As a referring veterinarian, you can rest assured that your patients will receive exceptional, compassionate, and technically advanced veterinary care at the AHC. We offer you and our patients top-notch diagnostics, treatments and surgeries, and we make it a point to communicate with our referring veterinarians throughout the process to ensure optimal care. You will be sent a copy of the patient's medical records at the time of discharge, and we will do our best to keep you up-to-date on the case while the patient is in our care.
At the same time, we recognize that our mutual clients' needs are just as important, so our team makes every effort to answer any and all questions an owner may have regarding their pet's condition/illness. We want clients to know the cooperation and teamwork between their referring veterinarian and our personnel provide the best possible outcome in securing the best possible quality of life for their pet.
Please call (662) 325-7016 to schedule an appointment. Our hours for referral appointments are 8am - 5pm Monday through Friday. Our referral coordinator is available at the same number and is happy to answer your questions.
Please complete a Referral Form that may be faxed to (662)325-4596, emailed to ahc@cvm.msstate.edu or sent in with your client.
For diagnostic services, contact a facility in the MSU CVM Diagnostic Laboratory System.