QUICK LINKS ABOVE
The AHC offers a number of support services for the benefit of our clients and patients; however, the clinicians and caregivers in many of these areas do a great deal of their work "behind the scenes," so you might not meet them during your visit. Rest assured, however, they are a vital part of our team, doing their part to ensure that your animal receives the highest quality care!
Anesthesia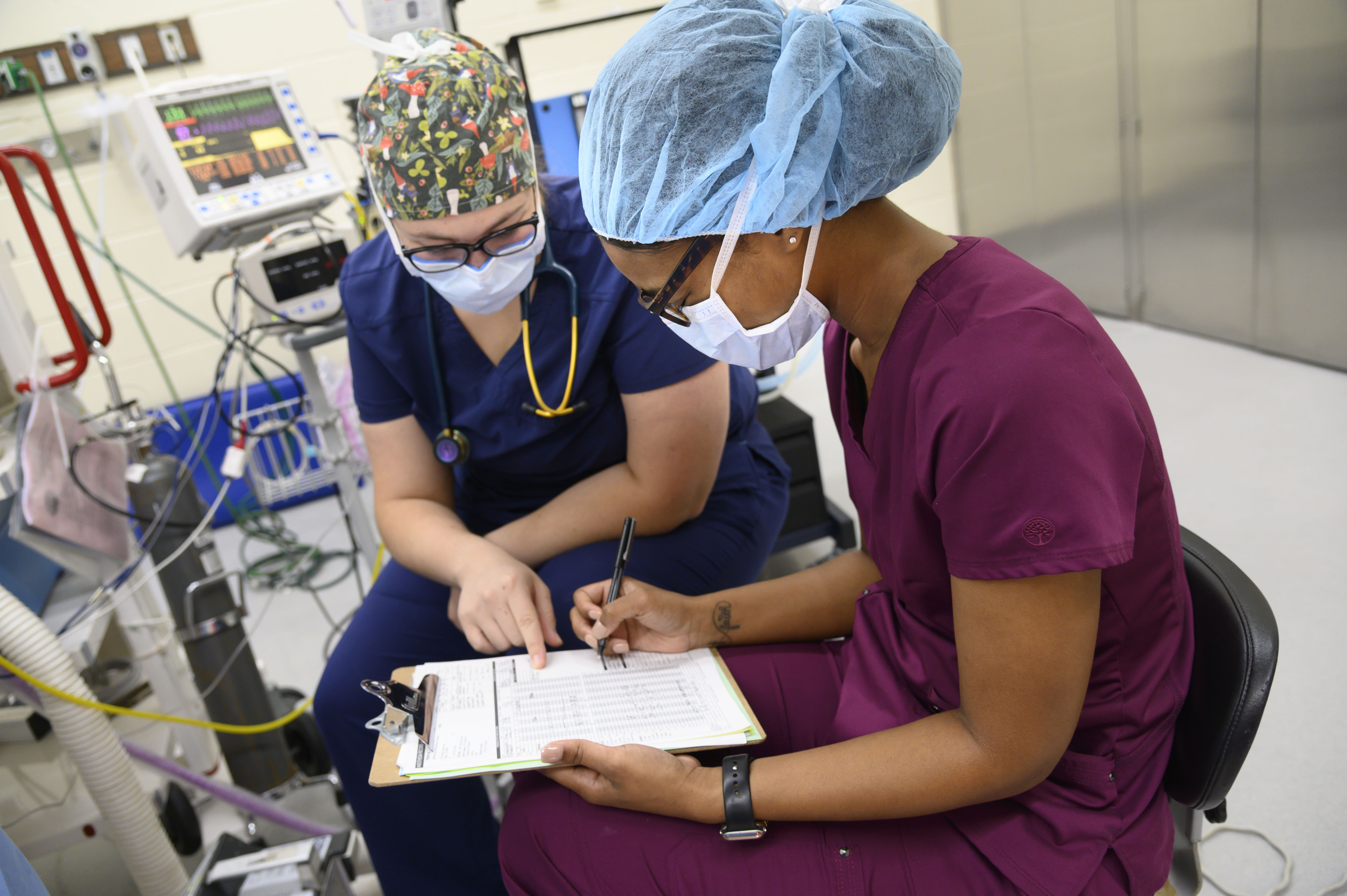 The MSU CVM Anesthesia section provides sedation, general anesthesia, regional anesthesia and acute pain management to many patients requiring surgical or diagnostic procedures each year, servicing both the large animal medicine and small animal medicine services of the hospital.  Dogs, cats and horses are the most common patients; however, rabbits, birds, cows, pigs, lions and tigers have all been anesthetized by the service!  The team is led by two board-certified veterinary anesthesiologists.  
The anesthesia team is also responsible for teaching the concepts and applications of anesthesia to second- and third-year veterinary students and veterinary technology students. They work closely with the orthopedics, neurology, rehabilitation and oncology services to provide an interdisciplinary approach to pain management.
We have compiled a list of FAQs to help address any concerns you might have.  If you have additional questions after reviewing this info, please contact the clinician in charge of your pet's care.
Anesthesia Team:
Anesthesiologists
Robert Meyer, DVM, Dip. ACVAA, Professor
Claudio Natalini, DVM, MS, PhD, Dip. ACVAA, Associate Professor
Kristen Fizzano, DVM, Dip. ACVAA, Assistant Clinical Professor
Wen Wang, DVM, Assistant Clinical Professor
Simone Hinz, DVM, BSc, Assistant Clinical Professor, Service Chief
Residents
Patricia Ellrich, DVM
Grace McBride, BVM&S
Technologists
Shelbi Doucette, CVT
Gracie Holder, CVT
Zach Spangler, CVT
Nancy Pounds, CVT
Stacy Taylor, CVT
Carrie Waddle, CVT
Abby Small, CVT (part time)
Angela Bair, CVT (part time)
---
Diagnostic Imaging
Diagnostic imaging is crucial for the accurate diagnosis of many common conditions and diseases, and it also often plays a role in helping determine an appropriate treatment strategy. The AHC Radiology Service assists clinicians in the AHC with these efforts by offering small and large animal radiography (X-ray), digital fluoroscopy, small and large animal ultrasound, computed tomography (CT), and MRI. They also provide veterinary and veterinary technology students the training and hands-on imaging experience they need upon graduation.
All patients in the department are referred to by one of the clinical services in the AHC, such as surgery or internal medicine; clients cannot make appointments directly with radiology themselves. If images are ordered of your animal, your AHC clinician will discuss the findings with you after consulting with one of our radiologists. 
The AHC Radiology Service also offers consultation services for referring veterinarians, meaning your veterinarian can send us radiographs of your pet for interpretation by one of our radiologists. A veterinary radiologist is a veterinarian who has completed advanced training in a three-to-four-year radiology residency program after graduating from veterinary school and has passed a board examination. We are proud to offer a board-certified radiologist, four radiology residents, a radiology intern and a technologist in the AHC.
We have compiled a list of FAQs to help address any concerns you might have.  If you have additional questions after reviewing this info, please contact the clinician in charge of your pet's care.
Examinations and Procedures Offered:
Radiographs

Thoracic (chest), abdominal, and musculoskeletal radiographs (x-rays) for small and large animals
Radiographs for submission to the Orthopedic Foundation for Animals (OFA)
Contrast studies
Gastrointestinal barium studies to evaluate the esophagus, stomach, small intestine, and large intestine
Urinary iodine studies such as excretory urography for kidney and ureter evaluation, cystography for bladder evaluation, and urethrography for evaluation of the urethra
Myelography for evaluation of the spinal cord

Fluoroscopy for real-time evaluation of the esophagus, trachea, and more
Ultrasound

Abdomen
Thorax, including echocardiography (ultrasound of the heart)
Musculoskeletal, including tendons and ligaments
Eyes
Ultrasound-guided aspirates and biopsies

Computed tomography (CT) for evaluation of diseases of the skull, nose, spine, limbs, ears, thorax, and abdomen
Magnetic resonance imaging (MRI) for evaluation of the brain, spinal cord, and musculoskeletal system
We also provide consultation for referring veterinarians.
Info for Referring Veterinarians:
Our radiologists are available for interpretation of radiographs of your patients. To send images for referral:
Please label all images with the name of the referring veterinary clinic, patient name and date of examination.
Digital images should be sent in their DICOM format. Veterinarians may contact our referral coordinator, Julie Burt, for instructions to send these files. She can be reached at (662) 325-7016 or jburt@cvm.msstate.edu.
Please complete the referral form from Julie Burt with as much patient information as possible and submit it along with the images through email to ahc@cvm.msstate.edu or fax it to (662) 325-4596.
If sending hard copy radiographs, please mail the films and the completed referral form to the following address:

Diagnostic Imaging Service
Animal Health Center
P.O. Box 6100
Mississippi State, MS 39762
Radiology Services Team:
Radiologists
Alison Lee, DVM, MS, Dip. ACVR, Assistant Professor, Service Chief
Marc Seitz, DVM, Dip. ABVP, Assistant Clinical Professor
House Officers
Catana Capps, DVM, Resident
Shanna Marroquin, DVM, Resident
Will Stevenson, DVM, Resident 
Technologists
Beverly Stevens, CVMT
Emily Hopson
---
Pharmacy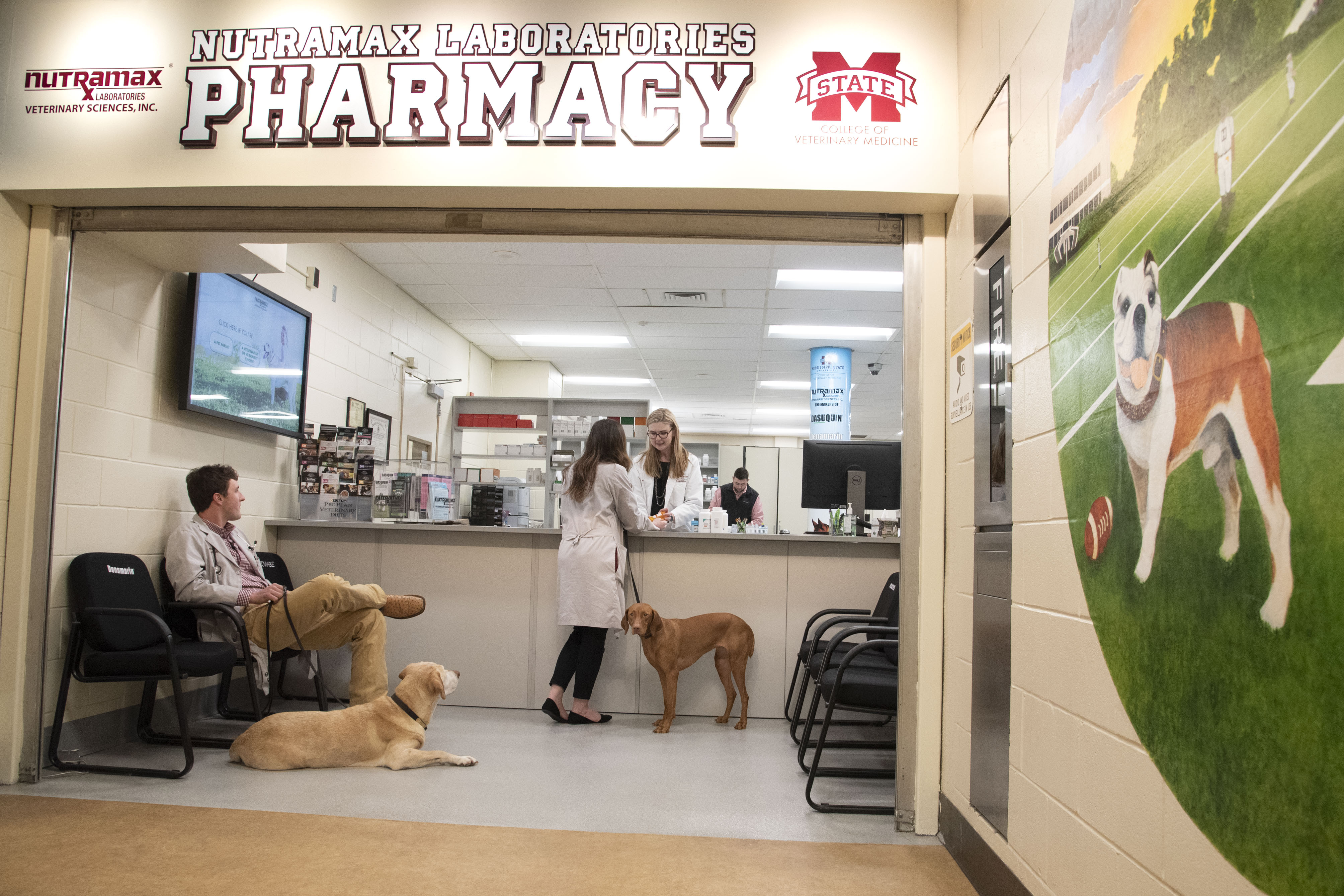 The Animal Health Center Pharmacy is licensed by the Mississippi Board of Pharmacy as an institutional pharmacy. As a support service of the hospital, we contribute to the mission of MSU CVMV in providing teaching, research, patient care and community service. The pharmacy team is also responsible for teaching pharmacology concepts and applications to third- and fourth-year veterinary students and veterinary technology students as well as fourth-year pharmacy students rotating with the pharmacy. From large to small animal and specialty compounds to allergen therapy, our staff are here to ensure your pet receives excellent pharmaceutical care.
The pharmacist provides clinical pharmacology consultations for faculty, staff, students, local veterinary practitioners and community pharmacists upon request. 
The pharmacy is open Monday through Friday from 8 am until 5 pm with emergency on-call service available after hours. To reach us, please call 662-325-1252.
We offer the following specialty services:
Sterile compounding
Non-sterile compounding
Parenteral nutrition
Chemotherapy
Drug information
Immunotherapy
Veterinary medicine externship for pharmacy students
Pharmacy Team:
Erica Wassack, PharmD, FSHVP, FACVP, Senior Clinical Pharmacist and Service Chief
Carole McLaughlin, CPhT
Lindsey Doss, CPhT
Matt Clem, CPhT
---
Rehabilitation
Members of the AHC rehabilitation services team offer a comprehensive program combining traditional physical applications with current therapies to help minimize or reverse functional impairment. These therapies are professionally designed to meet the specific needs of each patient to improve mobility, manage pain, increase strength, and ultimately improve the quality of life for your companion animal.
All consultation and treatment services are available by appointment only; a referral from your regular veterinarian or veterinary surgeon for rehabilitation is required. 
It is important to bring any relevant radiographs or medical records to your appointment.  Your veterinarian can also fax or email medical records prior to your appointment.
Benefits of Canine Physical Rehabilitation: 
Reducing pain 
Promoting healing 
Restoring and/or maintaining movement 
Building muscle mass 
Increasing cardiovascular fitness
Combating obesity 
Improving physical condition in sporting & working dogs 
Training for use of carts and braces and other such equipment 
Canine rehabilitation adapts different manual techniques and modalities used by physical therapists in human patients and applies these same techniques to dogs. It can promote a more rapid recovery from neurological or orthopedic disorders and surgery, helping to avoid complications associated with prolonged rest, as well as help prevent obesity and improve physical and cardiovascular fitness.
Modalities Offered Include:
Electrical Stimulation
Electrical stimulation is the therapeutic application of a controlled electric current. This modality is effective for the treatment of various orthopedic and neurologic diseases to assist with the management of acute or chronic pain, accelerate healing, and to delay muscle atrophy. 
Therapeutic Laser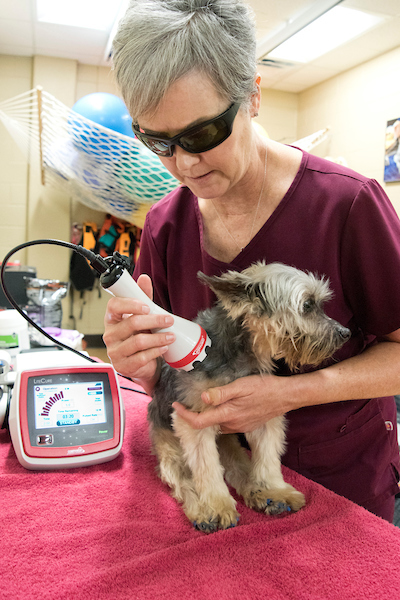 Low-level laser therapy is a painless treatment that uses clinically tested wavelengths of light to stimulate natural biological processes leading to faster healing and pain relief. Cells in the body absorb laser energy that stimulates the body to release pain relieving compounds, increases circulation and energizes the cells to participate in the healing process. Many times laser therapy can take the place of pharmaceuticals and surgery to treat long-term, degenerative diseases. 
Therapeutic Exercise
Therapeutic exercise is an essential and noninvasive form of treatment designed for use in a variety of musculoskeletal and neurological conditions. These activities strengthen specific muscles, increase flexibility, minimize pain, develop coordination and body awareness, as well as improve movement quality. Each patient receives a home therapeutic exercise plan so owners can be involved in their companion's healing and physical wellness. 
Hydrotherapy
Our underwater treadmill has many benefits and is effective in rehabilitation for post-operative orthopedic surgery, neurologic injury and osteoarthritis pain relief. Exercise in water can improve strength, endurance, and joint function while minimizing pain in a safe, supportive environment.
Game-Ready Ice Compression
The game ready unit promotes vasoconstriction and helps reduce inflammation and edema, while allowing gentle compression.
Ground Treadmill
Walking on the treadmill helps with gait retraining and encourages initial weight-bearing following surgery.
Shock Wave Therapy
Shock wave is an acoustic wave which carries high energy to painful areas and tissues for both acute and chronic conditions. The energy promotes regeneration and reparative processes of the bones, tendons and other soft tissues.
Therapeutic Ultrasound
Therapeutic ultrasound is an effective treatment for rehabilitation conditions such as restricted range of motion, pain, muscle spasms and wound healing.
Meet Our Therapists:
Michaela Beasley, DVM, MS, CCRP
Dr. Beasley is a 2004 graduate of Berry College with an animal science degree, a 2008 graduate from the Mississippi State University College of Veterinary Medicine and a 2011 graduate with a Master's of Science degree from Auburn University. She completed a general rotating internship at Auburn University and a Neurology/ Neurosurgery Residency under Dr. Andy Shores at Auburn University and Mississippi State University. She holds certification in Neurosurgery and Canine Rehabilitation.
Michael Jaffe, DVM, MS, CCRP, DACVS
Dr. Jaffe is Service Chief and Associate Professor of Small Animal Surgery. He is a graduate of University of Missouri College of Veterinary Medicine and earned his Master's degree in Veterinary Clinical Science from LSU School of Veterinary Medicine. He completed a 1-year rotating small animal internship and 3-year companion animal surgery residency at LSU School of Veterinary Medicine in 1999. He is a Diplomate of the American College of Veterinary Surgeons, and earned his CCRP in Canine Rehabilitation in 2017.
Technicians: 
Ruby Lynn Carter, CCRP
Catherine Barton
Justice Steele
To the AHC Rehab Team there is little in life more rewarding than helping a non-ambulatory patient go through the process of recovering and regaining normal function. Knowing they help patients reach the milestones necessary to return home to their families and previous lifestyles makes their daily duties worthwhile.
All rehab patients are referred back to their primary care veterinarian for routine veterinary care. For additional information about our rehab services, contact Ruby Lynn Carter at RCarter@cvm.msstate.edu.